Elon Musk: SpaceX Falcon 9 Explosion "Most Complex Failure Ever"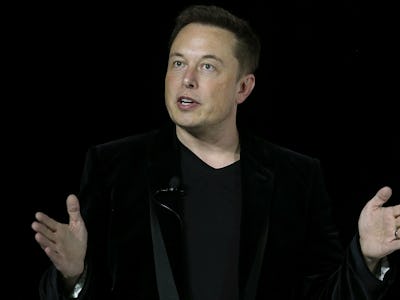 Getty Images / Justin Sullivan
Elon Musk has declared the Falcon 9 disaster, which made headlines earlier this month when it destroyed a Facebook satellite, SpaceX's "most difficult and complex failure" in its 14-year history.
Early Friday, Musk took to Twitter and reached out to NASA, the FAA, the U.S. Air Force, and anyone else who may have information relating to the disaster. Anyone who took a recording of the event has been invited to send the footage to report@spacex.com.
The circumstances surrounding the incident are baffling. When the rocket exploded on the launch pad at Kennedy Space Center on September 1, SpaceX was preparing to conduct a static ground test. The explosion originated around the rocket's upper stage oxygen tank during fueling. Musk himself reiterated on Friday that the explosion happened during a routine propellant filling operation, and at this time there is no apparent heat source. The rocket never planned to leave the ground at all when the incident occurred.
Mark Zuckerberg immediately wrote a statement on his Facebook page that he was "deeply disappointed" by the incident. The Amos-6 satellite was meant to help bring internet access to sub-Saharan Africa, where Zuckerberg was touring at the time, and cost $200 million to produce.
Although the explosion remains a mystery, Musk may have a lead. Noting a quiet bang that can be heard moments before the incident, Musk tweeted that he is seeking to find out the origin of the noise, presumably in the hope that it would lead to an explanation.
Musk is clearly working on the investigation late into the evening. His tweets were sent in the dead of night, at 1 a.m. Pacific.
When asked by Inverse this week how long it might take SpaceX to launch again, its president and COO Gwynne Shotwell, said, "Our number one priority is to safely and reliably return to flight for our customers, and we will carefully investigate and address this issue." After the last rocket explosion in June 2015, SpaceX was back launching rockets five months, 24 days later.
Meanwhile, Musk's long-awaited announcement on Tesla Autopilot technology has been postponed. Musk's other venture is expected to roll out a software update that uses laser technology to improve the feature's functionality. Due to be revealed on September 1, the Falcon 9 incident put these plans on hold.