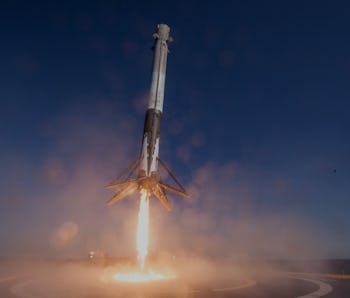 Innovation
SpaceX Could Be Flying Again by March 2017
Getty Images / NASA
A report out Thursday afternoon has a damning headline for Elon Musk: "SpaceX could be grounded for 9-12 months: ULA chief." But recent history shows that Musk's aerospace company could be launching rockets less than six months after a September 1 explosion.
Tory Bruno, CEO of United Launch Alliance, the Denver-based aerospace company that's a joint partnership between Lockheed-Martin and Boeing, and a direct competitor with SpaceX for contracts, told Reuters it could take up to a year for SpaceX to fully recover after that recent launchpad explosion:
"It typically takes nine to 12 months for people to return to flight. That's what the history is," Tory Bruno, chief executive of United Launch Alliance.
But recent history shows it could be much shorter: After SpaceX suffered a "mishap" on June 28, 2015 — an "overpressure event was triggered by a hardware malfunction" — it was grounded for five months, 24 days. On December 21, 2015, SpaceX successfully launched (and landed on Earth) its Falcon 9 rocket.
Gwynne Shotwell, president and COO of SpaceX, tells Inverse in a statement that the company is focusing on "safety" for the time being:
"Our number one priority is to safely and reliably return to flight for our customers, and we will carefully investigate and address this issue. We are grateful for the continued support that our customers have expressed to us."
The September 1 explosion occurred just before a static fire test ahead of a launch planned for two days later. Destroyed in the fireball was an Amos-6 communications satellite, valued at some $200 million, which Facebook planned to use to bring internet connectivity to sub-Saharan Africa. SpaceX will reportedly pay Spacecom, makers of the satellite, $50 million in compensation or offer a free launch in the future.
"I'm deeply disappointed to hear that SpaceX's launch failure destroyed our satellite," Facebook CEO Mark Zuckerberg wrote in a statement posted to his Facebook page.
Meanwhile, ULA is set to launch the OSIRIS-REx asteroid-sampling mission. Bruno — who you should follow on Twitter — is pumped:
So while Bruno's guess of nine months to a year may be too long, it may not be until March 2017 when SpaceX attempts another droneship landing like this: