Facebook Will Use Satellites to Deliver Internet to Sub-Saharan Africa
If it's not called Spacebook yet, it ought to be.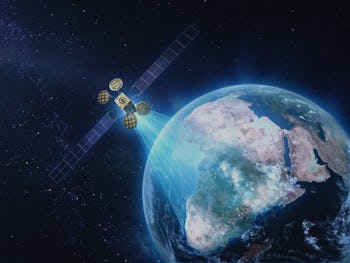 Mark Zuckerberg/Facebook/Internet.org
Satellite internet is more than a decade old at this point, but its true potential — getting access to people and communities living away from telecommunications infrastructure — has hardly been realized.
In rides Facebook. Mark Zuckerberg and company have announced plans to team up with French satellite operator Eutelsat to beam broadband internet from satellites to peoples in sub-Saharan African countries, including Nigeria, Tanzania, and the Ivory Coast. The project will employ the use of a new satellite called Amos-6, which costs $200 million — no chump change, but lunch money for a $33.3 billion company.
The project falls under Facebook's Internet.org initiative, which seeks to provide free web services to developing nations. The Amos-6 system is expected to go up in the latter half of 2016.
Internet.org has come under high praise and intense scrutiny over the past year. It recently opened up its platform to more mobile operators, and since launching in Africa, Internet.org's services are available in 19 countries worldwide. At the same time, it's been a lightning rod for criticisms related to net neutrality, especially in India and Indonesia. An open letter released on May 18 this year underscores these widely held fears.
Facebook's announcement came at a special moment — the UN just released a new report that found 57 percent of the global population still does not have access to regular, reliable internet. Zuckerberg and many other tech giants have long professed desires to get working internet access to countries in need.
"Facebook's mission is to connect the world," said Chris Daniels, vice president of Internet.org, in a company statement. "We believe that satellites will play an important role in addressing the significant barriers that exist in connecting the people of Africa."
Will free satellite internet be the revolutionary game-changer Zuckerberg wants it to be? Maybe so. Privacy scares and net-neutrality concerns noted, it will be very difficult for people to say no to free internet — no matter what country they live in. It may, at the very least, engage digitally isolated countries to a point where they can fight back if they feel threatened by Facebook and other tech companies. They won't simply have to resign themselves to withholding a "like" — they'll be able to rally support from across the region.