Tesla: No Evidence of Autopilot Being Used in Recent Crash
After a Model X crashed in Pennsylvania on Friday, Tesla responded with findings on the accident.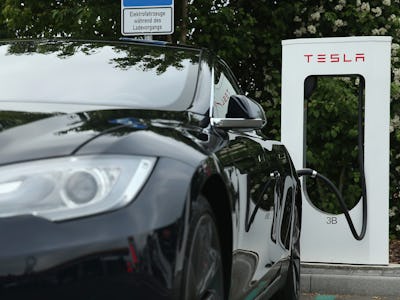 Getty Images / Sean Gallup
New details from the National Highway Traffic Safety Administration have revealed that a product of Tesla Motors has been involved in another crash, but it may not be the fault of the automaker's paranoia-plagued Autopilot system. Today, Tesla released a statement detailing the incident and investigation, saying that there's no evidence showing that Autopilot was engaged at the time of the crash.
The accident, which involved one driver and one passenger, was thankfully not fatal. The victims are a prominent art dealer named Albert Scaglione and his son-in-law, Tim Yanke. Scaglione, 77, is the CEO of Park West Gallery in Southfield, Pennsylvania, not far off from where the crash took place in Bedford. The two were treated for injuries and have been released from the hospital.
The crash report filed by the Pennsylvania State Police Department states that the car crashed into a guardrail on the Pennsylvania Turnpike, before crossing the opposite eastbound lanes and slamming into the concrete median. Dale Vukovich of the Pennsylvania State Police stated in his report that Scaglione, who was driving, claimed to have the Autopilot feature turned on.
Tesla is working with police and the NHTSA on the case, but says that there's absolutely no evidence that Autopilot was engaged at the time. "We have no data at this point to indicate that Autopilot was engaged or not engaged," Tesla said in a statement to the press. "This is consistent with the nature of the damage reported in the press, which can cause the antenna to fail."
Overall, it's been a pretty irritating week for Tesla. After defending growing doubts and paranoia of its Autopilot functionality against its now widely-publicized first fatality, founder Elon Musk stepped up after a report from Bloomberg said that the company is slowly killing Flamingos and other wildlife in Chile, where lithium is mined.