Brazilian Cops Accidentally Use Elon Musk Photo in Billboard Campaign
A police union in Campo Grande, Brazil, used the SpaceX founder's image in a city-wide billboard campaign.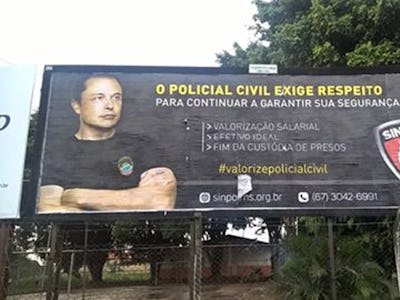 Correio Do Estado
When you look at Tesla Motors CEO and SpaceX founder Elon Musk, with his dark hair, full lips, and heavy lids, you just think: Brazilian cop. Right? Totally. Don't argue with us, because there are billboards all over Campo Grande, Brazil, which back up this fantastic notion.
Apparently, the South Mato Grosso police union or Synpol MS, took an image of the techie transportation mogul, photoshopped a cop logo over his left pec, and inferred that he's one of them. Autoblog discovered a Brazilian news story by Correio Do Estado on this amazing act of plagiarism.
The union created this ad to push the hashtag #valorizepolicialcivil or #respectthepoliceofficer. This does nothing to help their cause.
A quick Google search shows that the repurposed image is credited to BI Events on this Business Insider article. Will anyone sue the Brasileira fuzz over this provincial blunder, likely bankrupting the whole city? Let's hope not, since the union was totally unaware that the photo was stolen from a guy who sends rockets into space.
According to the original article, publicists in Brazil are having a huge gaffaw over the affair.
But so is Elon Musk himself, who tweeted yesterday, "My job moonlighting as a police officer in Brazil is no longer secret."