Elon Musk Highly Recommends You Play Blizzard's 'Overwatch'
Tesla and SpaceX CEO is apparently a huge fan of the new game from the Warcraft developers.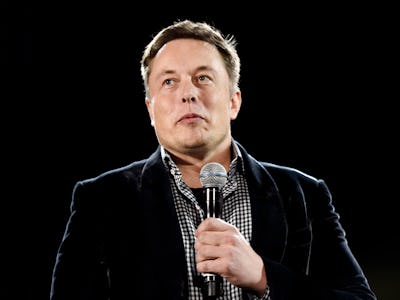 Getty Images / Kevork Djansezian
Elon Musk is a man of many hobbies and varied interests. This is evidenced by his ventures in space exploration (SpaceX), urban transportation (Tesla Motors), and public transit (Hyperloop). But, the man often referred to as a real-life Tony Stark by pop culture-savvy journalists, is also a huge fan of video games.
Recently, he espoused the notion that we are all potentially living within a video game. On stage at the Recode conference last week, Musk told audiences that he believes we are all living in a simulation, saying that the odds of our's being the base reality is "one in billions". That won't stop the man from venturing deeper into The Matrix, however.
He recently told his followers on Twitter (and presumably co-simulations in this game we call human existence) that we should venture deeper into our simulations within simulations and check out the video game, Overwatch. He even linked to a YouTube parody video for an "Honest Game Trailer" for Overwatch, produced by popular YouTube channel, Smosh Games.
Highly recommend @PlayOverwatch by the good people of @Blizzard_Ent if you like ultrafast team FPS - @elonmusk. Twitter, 5 June 2016
For those of you who may be unaware, Overwatch is the newest game from Warcraft developers, Blizzard Entertainment. Unlike the fantasy-RPG setting of Warcraft, Overwatch is a team-based, first-person shooter. Players choose a character from a roster of champions and play a specific role in clearing team objectives. These roles are typically divided into: offense, defense, tank, and support. Overwatch was met with critical acclaim upon release, quickly becoming one of the most popular games in recent memory.
Musk has demonstrated in the past that he has pretty good taste in pop culture. Back in February, Musk tweeted a look into his TV habits, tweeting an image of his coffee mug emblazoned with the "Dumb Starbucks Coffee" logo. "Dumb Starbucks" is the parody coffee store opened by lauded comedian Nathan Fielder in Season 2 of his Comedy Central show, Nathan For You.
Elon Musk should maybe consider looking into an "Elon Musk's Favorite Things" venture, à la Oprah.