Elon Musk Reiterates: Tesla Is Exclusively Working With Panasonic For Model 3, S, X.
Some news stories weren't clear enough about the deal, so Tesla's Elon Musk took to Twitter to clarify.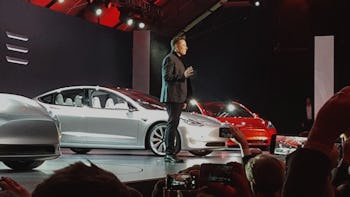 Forbes
Earlier today, reports surfaced about a mysterious shipment to Tesla Motors from South Korea. The reports claimed that Tesla is in talks with Samsung about supplying more batteries for its Model 3 electric cars, and said that the company is looking to add more suppliers in the wake of heavy demand. At the time, spokespeople for Samsung declined to comment — and now, Tesla's Elon Musk is using Twitter to clarify what the reports got wrong.
"Would like to clarify that Tesla is working exclusively with Panasonic for Model 3 cells," wrote Musk. He went on to explain that the S and X are also under Panasonic and Tesla, exclusively.
Almost immediately, stocks began to jump for Panasonic; almost as if they were magic, Musk's words drove the company up in value.
In a statement sent to The Verge, a spokesperson for Tesla said that Panasonic has "been our battery cell supplier throughout the Model S and Model X programs," and that Tesla currently "work[s] very closely with Panasonic to ramp up battery cell production at the Gigafactory for Model 3." Tesla's model 3 is due next year, and while the earlier reports may not have been directly true, some are speculating that the deal has to do with providing Tesla with energy storage products instead. Either way, it is incredible to see how quickly a tweet from someone in Musk's position can alter a company's stocks.