Elon Musk Might Guest Star in 'Silicon Valley' Season 4
He only wants to do it if he gets to play a monkey, though.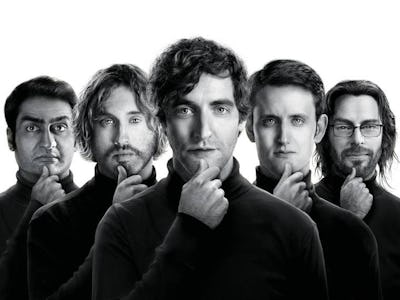 HBO
Once every so often, a Twitter exchange will remind you that Twitter is alright, like the weird conversation that might lead to Elon Musk appearing in Silicon Valley's fourth season. Or rather, it might lead to Elon Musk appearing in a monkey costume in Silicon Valley's fourth season.
Here's what went down. On Monday, Elon Musk tweeted about a mystery shopper study that ranked his company's salespeople, Tesla Motors, last. Musk was proud that Tesla store employees were compared to "museum curators," and finished "last in being salesy" because his company instructs its salespeople to not pressure visitors into buying. The organization behind the study is called Pied Piper, which is also the name of the fictional tech company central to the plot of Silicon Valley. Musk, who lives in the real life Silicon Valley, quipped about the show — "I can't believe there is a real Pied Piper."
That would have been that, if not for a completely random third party, Dave Barton, who jumped into the conversation at 1:15 a.m. on Tuesday morning. Barton tweeted, for some indiscernible reason, at both Judd Apatow and Kumail Nanjiani, the actor who plays Dinesh Chugtai on Silicon Valley. "It looks like @elonmusk is a fan of @SiliconHBO," Barton wrote, then added: "Two words — 'guest star.'" Eight minutes later, Musk replied: "Only if I can play a monkey."
One minute later, Nanjiani himself joined the fun: "Mr. Musk you can play whatever you want." He tagged show co-creator Mike Judge, who then liked the tweet as well as Musk's follow-up: "can't wait to see the costume."
Silicon Valley is no stranger to celebrity or tech mogul cameos. They've had Alphabet Inc.'s Eric Schmidt, Snapchat co-founder and CEO Evan Spiegel, Kid Rock, Flo Rida, the Winklevoss twins, Asana founder Justin Rosenstein, UFC President Dana White, that guy named Joe Rogan, and others. Musk, though, would be a score. Especially in a monkey suit.
Despite this newfound interest, Musk was singing a slightly different tune two years ago:
And a few months later, Nanjiani and a couple other comedians poked fun at the billionaire:
Perhaps Musk, unlike some critics, has enjoyed recent seasons. If he likes it enough to get in a monkey suit, we're all on board.