Elon Musk Says Tesla's Self-Driving A.I. Is "Going to Blow People's Minds"
Tesla's got problems, Musk's got answers.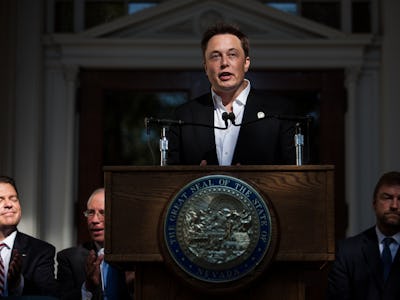 Getty Images / Max Whittaker
Tesla has had a tumultuous couple of months since the company's first quarter earnings call in May. On Wednesday, CEO Elon Musk had a chance to explain his take on it all to Tesla's biggest investors, including the future of Autopilot, the driver-assist technology that's been linked with a fatal collision, and tease a "more significant announcement" that's coming from Tesla soon.
"Full autonomy is going to come a hell of a lot faster that anyone thinks it will and I think what we've got under development is going to blow people's minds," Musk told investment analysts. "It blows my mind and I see it all the time."
Later, Musk drilled down on Tesla's internal efforts at driver-assist technology:
"Full autonomy is really a software limitation, the hardware exists to create full autonomy, so it's really about developing advanced, narrow AI for the car to operate on — narrow A.I. is not going to take over the world but it needs to be really good at driving a car," Musk told analysts. "So increasingly sophisticated neural nets that can operate in reasonably sized computers in the car, that's our focus. I'm very optimistic about this."
"It blows me away, the progress we're making, so if I'm this close to it and it's blowing me away, it's really going to blow other people away when they see it for the first time."
As Tesla succinctly states it in the opening of its Quarter 2 shareholder letter, "Q2 was certainly busy." Some of the busy was good and some bad, but it's Musk's job to know when to hold them, when to fold them, and when to walk away.
Here's what he had to say on all the things that have kept Musk and company busy.
Tesla Offers to Buy SolarCity
Tesla, a money-losing business run by Musk, offered to buy SolarCity, another money-losing business that Musk sits on the board of, on June 21. Stocks initially tanked as investors questioned his judgment, but Musk stated that he has "zero doubt" about the acquisition. Further details released in a buyout plan and investor call on Monday laid out how the two companies together could create a seamlessly integrated green lifestyle.
Musk wasn't ready for any other statements just two days later. The Tesla shareholder letter did include the following:
Buying the largest residential solar energy installer and generator in the United States along with its unique panel technology will further our mission of accelerating the world's transition to sustainable energy. We see significant opportunities for product innovation and integration, and we shared our initial thoughts on synergies earlier this week."
Master Plan, Part Deux
Elon Musk laid out his long-awaited "Master Plan, Part Deux" on July 20. Musk's first plan, put out in 2006, still had some unchecked boxes (one of which is offering solar panels, but Tesla is still working on that), but the second manifesto lays out much, much bigger plans.
For the autonomous car section of the master plan, Musk said the demand would be nearly endless.
"We would have to make a truly enormous number of autonomous vehicles to achieve any demand saturation."
Tesla and Autonomous Technology Partner Mobileye Split
Tesla has relied on Mobileye's camera system throughout the development of Autopilot, Tesla's autonomous system. On July 26, Mobileye announced that it won't supply Tesla with further technology than the technology that it already is providing.
But Tesla is bringing more things in-house, and autonomous development is apparently one of those things.
"Unfortunately and fortunately, Tesla can't sneeze without there being a national headline," Musk said when asked if Tesla would release reports on autonomous driving progress like Google does. "Then the media will inflate it in size by a thousand."
A "Significant" Autonomous Announcement Is Coming
"I think we have a more significant announcement on (autonomous development) later," Musk said. "An Earnings call is not the right time for that, except it will be a Tesla solution, an internal solution."
Here's the full shareholder letter: