Department of Defense Awards Elon Musk's SpaceX a Military Satellite Contract
SpaceX has finally broken Boeing and Lockheed Martin's monopoly on military contracts.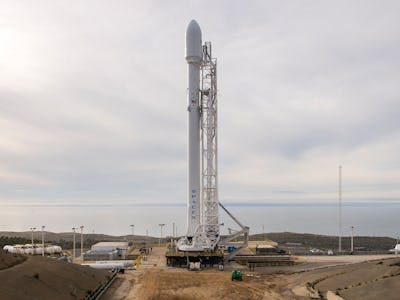 Bill Ingalls/ NASA
SpaceX has been launching supply missions for the ISS for close to four years, but on Monday, Elon Musk's space-exploration arm cracked a military-contract monopoly held by aerospace titans Boeing and Lockheed Martin for more than a decade.
The Department of Defense gave SpaceX an $83 million contract to launch a Global Positioning System satellite for the military, winning the first competitive launch contract it has offered in ten years. Previously, all military launch contracts went straight to either Boeing or Lockheed, but the military is opening up their dealings to the growing civilian space sector.
"This GPS III Launch Services contract award achieves a balance between mission success, meeting operational needs, lowering launch costs, and reintroducing competition for National Security Space missions," Lieutenant General Samuel Greaves, who heads the Air Force's Space and Missile Systems Center, said in a statement reported by Reuters.
United Launch Alliance, the spaceflight conglomeration of both Boeing and Lockheed Martin, didn't even bid on the contract, according to Reuters. One former ULA vice president told the wire service that SpaceX's "cut-rate" pricing, alongside trade sanctions on its Atlas rockets, Russian-made engines, and "accounting issues."
Essentially, it looks like SpaceX offered to fly the military's GPS satellite into space for a lower price, and nabbed the contract out from under the big dogs' noses. They'll get $82.7 million, which should cover production of a Falcon 9 rocket, as well as all of the administrative costs, certification, and launch operations.
The Air Force plans to open up bidding for eight more contracts between now and 2018, so expect to see other fledgling aerospace pioneers spread their wings and try to catch those sweet streams of defense-budget money.