Elon Musk Pokes Fun as Ford Overpays for Tesla Model X: "Resale Value Is Holding"
Everyone seems desperate to get their hands on a Tesla these days.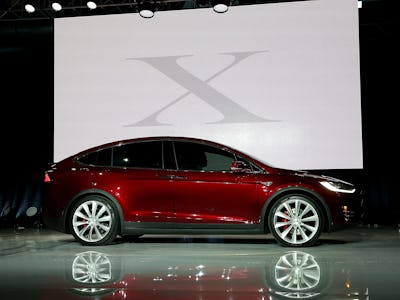 Getty
Tesla is so hot its competitors are willing to spend more than $200,000 for one, according a new report.
Ford bought an early Tesla Model X SUV for $55,000 above than the going rate to test the vehicle. Checking out the competition is nothing new — how can you beat the other companies in the market if you don't know what's under the hood? — but the round-about way that Ford came into possession of the 64th Model X ever produced is quite something.
Even though Musk and company unveiled the Model X in 2012, considerable "hubris" caused the company significant delays in delivering the car to buyers.
They are pricey — especially with all of the extra add-ons — but not $200,000-plus pricey. To get one of the first 100, listed as "Founders Series," you either have to be a Tesla board member, close family friend, or a star in Tesla's Model S referral program.
Or, as Bloomberg reporter Dana Hall dug up, you have to buy one off someone who is a star in Tesla's Model S referral program.
The Model X that Ford ended up with was originally bought by a 71-year-old coin dealer in San Bernardino, California named Wayne Skiles. He was a Model S owner who referred at least 10 people to buy a Model S, so he had the option to buy a Model X Founders Series for $116,700.
"I sold 11 Model Ss. So I got a Founders Model X and immediately flipped it for a profit," Skiles told Bloomberg. "The car never came to California. I flew to Chicago, took physical delivery of the Model X, and immediately drove it to a dealer in Chicago and sold it."
Of course, as soon as Musk found out about the story, he had something to say: "Looks like Model X resale value is holding up well :)," he posted on Twitter today.
The Model X didn't have the best fourth quarter, but it's good to see someone was eager to get one off the lot. On Tuesday, both the Wall Street Journal and Consumer Reports detailed customer complaints about the Model X.