Tesla Sold Very Few Model X Cars in Its Fourth Quarter
Everyone wanted a Tesla Model X, but not everyone got one in 2016.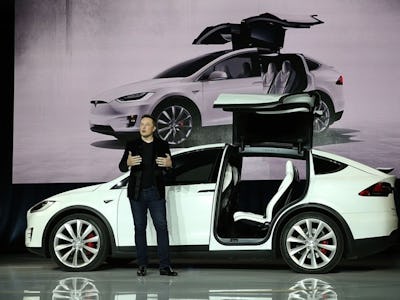 Tesla
Whether high or low, some people are private about their numbers. They don't want just anyone knowing their business all the time. Like Tesla Motors, which rolls out its digits quarterly, giving announcements that have much more impact. The news hit the web today that in 2015, the company sold a total of 50,557 vehicles and in this fourth quarter alone they slung 17,400 electric cars. However, the company moved only 208 of the Model X sport-utility vehicle. Though the Model X number appears scrawny, it doesn't tell the whole story of the car.
Customers made deposits of $30,000 for the Model X a year prior to actually getting their hands on them this fall. At that time, CEO Elon Musk said in a Tesla earnings call, "I think realistically if someone is ordering the Model X right now, the car is gonna get delivered in early 2016. So we're essentially sold out of 2015." And there's still a waiting list.
Production is increasing, and the company is "on pace to make 238 Model X vehicles weekly," according to The Verge. The publication also noted some reasons for the desire to own this particular ride. "The X will hit 60 miles per hour as quickly as a Porsche 911 Turbo," and that it's equally as pricey; a P90D costs $142,000 though the more modest 70D model costs $80,000. Still not in a normal person's price range, but, hey, what you're saving in gas can go toward that crazy Platinum card bill and your future kid's education.