A Tesla Model S Redesign May Make It More Like Model X
What would that say about Elon Musk's engineering strategy? 
by Sam Blum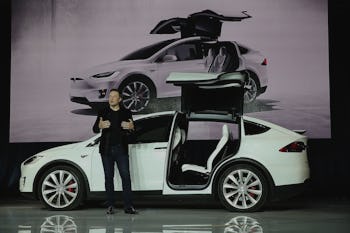 Getty
Even as Tesla inspires constant hype, the company remains publicly guarded. The car manufacturer doesn't so much make announcements as unveil new tidbits of innovation in piecemeal fashion. Because of this, the company, along with its CEO Elon Musk, are subjected to constant rumor-mill conjecture about its latest schemes.
The newest Tesla hearsay to ping across the auto-blogosphere concerns the company's Model S sedan, and whether or not a supposed redesign will push it closer to the Model X — the newfangled SUV with falcon-wing doors and "ludicrous" acceleration.
Upgrading Model S in the vein of Model X does make sense. The latter boasts some of the most pioneering next-gen specs in the automotive world, e.g. an air-filtration system that could withstand frickin' nuclear fallout. But the purported Model S redesign says more about Tesla's unorthodox business methods than anything else. It suggests that at Tesla, innovation trumps traditional manufacturing predictability that has made car companies rich.
Musk has made obvious the importance of incrementally issuing updates to his vehicle's software, even if some Model S drivers might not appreciate the consequences. Most traditional automakers follow the paradigm of resting on success: Toyota is a great example, having built a near-perfect engine in the 1980s and ridden it for a generation. Tesla instead is risking that regularity in the name of new designs.
When Musk has been asked about the best time to buy the Model S, which has a starting price of $69,900, his answer hasn't varied. He's always insisted that "right now," is the only time to purchase Model S, or any Tesla vehicle, for that matter. His actions give heft to the pitch. At any given moment, it appears, Tesla is selling you the best car it can possibly assemble.