This Tesla Model X Holiday Video Offers Trans Siberian Orchestra, Falcon Wing Doors 
The electric car company offers this holiday treat.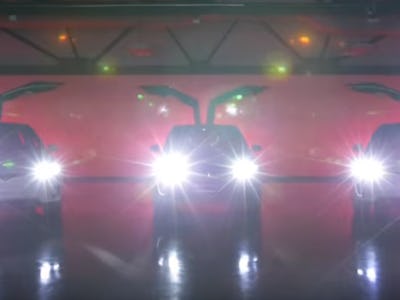 YouTube
The Tesla Model X is an impressive piece of machinery — its safety has been heavily pushed by the company and so has its "Ludicrous Mode" — and then there's the fact it has so-called "falcon wing doors." Oh and it's entirely electric. But what if you were to connect a trio of them to a computer and flashed their lights in time with the rippin' tunes of the Trans Siberian Orchestra?
What then?
Well, the California-based car company did just that with a new holiday video posted today to its YouTube channel. Three Model X's — the car made its debut back in September — flash their lights and open their doors in sync with TSO's set-opening skin-peeler, "Wizards of Winter," the 2004 song that best exudes the band's own brand of raw holiday power.
Tesla chief Elon Musk is full of original ideas, but this wasn't one of them. The band used this same technique on a house to promote the song more than a decade ago. It's an updated homage to the weird holiday classic.
But the Tesla video boasts something that houses — even with their massive garage doors — have yet to do: incorporate falcon wing doors into the mix.
Because truth be told, the Tesla video is only OK until those doors slowly open in unison around the 52-second mark, as seen below in a sped-up version (watch the video get the full effect):