Congress Wants Elon Musk to Defend Tesla After Autopilot Death
The Senate Committee on Transportation wants some answers.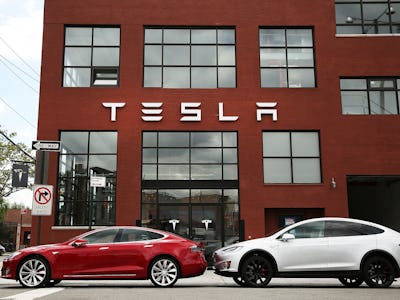 Getty Images / Spencer Platt
Senator John Thune wants to know how Tesla is responding to a fatal crash that happened when a driver used his vehicle's Autopilot feature on the highway.
Thune asked Musk on Thursday to send a Tesla representative to brief the Senate Committee on Commerce, Science, and Transportation — of which Thune is the chairman — on what the company has learned from the first Autopilot fatality that occurred on May 7 when a Tesla Model S ran into a tractor trailer.
"As Committee Chairman, I generally support the advancement of autonomous vehicle technology for its potential to improve safety and mobility," Thune says in his letter to Musk, citing statistics showing that 35,200 people died on the road in 2015. "Technological advancements have the potential to reduce that number significantly. Therefore, it is essential to use lessons learned from this incident to improve safety technologies, ensure they perform as advertised, and make certain that consumers are properly educated about their use," he says.
Musk defended Autopilot fervently after the crash. "Indeed, if anyone bothered to do the math (obviously, you did not) they would realize that of the over 1M auto deaths per year worldwide, approximately half a million people would have been saved if the Tesla autopilot was universally available," Musk said in an email to Fortune. "Please, take 5 mins and do the bloody math before you write an article that misleads the public."
Autopilot is still in its infancy, and because Tesla is so popular amongst techies, there has been a rush to test its features as thoroughly as possible. The problem is that Tesla doesn't make a new app that can be stress-tested without fear of harm — it makes vehicles that drive on roads populated with rolling metal boxes that can kill at a moment's notice. Autopilot is good, but it's clearly far from perfect.
The National Highway Traffic Safety Administration (NHTSA) is also investigating Tesla because of the fatal crash. Thune requested that Musk send Tesla's representative before his committee to discuss "the details of this incident, including the technology that was in use at the time, Tesla's actions in response, and the company's cooperation with NHTSA" sometime before July 29.
You can read Thune's full letter to Musk below.