Tesla Fatality Highlights the Dangers of 'Testing' Autonomy
Cars can kill you. Stop fucking around with them.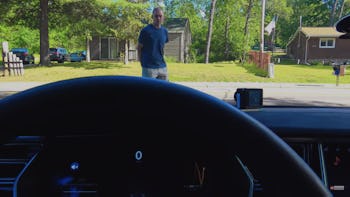 YouTube/ KmanAuto
On May 7, Tesla's highly popular and publicized Autopilot feature may have been partly responsible for the death of Joshua Brown, 40, a former Navy explosives ordnance disposal technician and long-time Tesla driver. Brown's Tesla Model S failed to detect a passing tractor-trailer vehicle while driving on the highway, striking the vehicle perpendicularly and killing Brown at the wheel. The NHTSA is currently investigating the incident. YouTube offers ample evidence that Brown had previously put his car's most notable feature to the test. It would seem that his death followed his car's first failure.
Brown was only one of a growing number of enthusiastic Tesla drivers who enjoy using their cars new and developing features to the fullest extent, testing their limits in real-life situations. In April, Brown briefly went viral after Tesla CEO Elon Musk shared the dashcam video of Brown's Tesla Model S avoiding a side collision while on Autopilot. Less than a month later, he was dead in another autopilot-related incident. While there is no evidence yet that Brown was driving irresponsibly, his death and countless other online videos highlight a disturbing trend among early adopters of next-generation vehicle technology: Enthusiasts are pushing the limits of features that are still in development.
In Brown's description of his initial video, he praises the car's features for saving him from a collision.
"Tessy did great. I have done a lot of testing with the sensors in the car and the software capabilities," Brown wrote. "I have always been impressed with the car, but I had not tested the car's side collision avoidance. I am VERY impressed. Excellent job Elon!"
While the autopilot system undoubtedly saved Brown from a collision, these widely-publicized incidents could be contributing to a culture of overconfidence among Tesla users. Sure, we can all laugh at the video of the grandmother reacting to Autopilot, but at the risk of spoiling everyone's fun, the video shows an elderly driver behind the wheel of a vehicle whose features she clearly does not fully understand.
While the Summon feature isn't perfect, it's understandable that owners, like the ones below, would want to test the limits of their car's software to know its capabilities. This is part of the reason people buy Teslas.
But it's also important to remember that the programs being tested aren't new cell phones or off-brand consumer drones, despite their Easter egg jokes and ridiculous safety features. They're full-sized automobiles, which account for more than 32,000 deaths every year. While responsible owners should have an idea of what their vehicle can and can't do, tragedies like Brown's death should be a reminder that careful, responsible car ownership is still necessary, no matter how futuristic your vehicle is.