Elon Musk Says the Tesla Model S Is About to Get Way Faster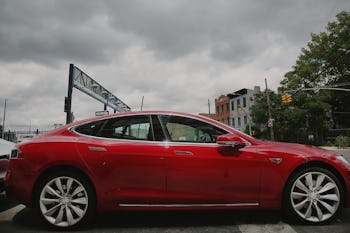 Getty Images / Spencer Platt
Tesla's flagship supercar is about to break its own speed records. On Wednesday afternoon, Tesla founder and CEO Elon Musk tweeted that the next software update for the Model S P100D would include a speed boost, with no new hardware required.
"Looks like the Model S P100D Easter egg will allow it to do 0 to 60 mph in 2.4 sec and a 10.6 sec 1/4 mile via software update next month," Musk tweeted.
The Model S already demonstrated something close to this capability in in a September drag raise against a Lamborghini Huracan, where the car was able to accelerate from 0 to 60mph in 2.5 seconds. However, this software upgrade would be the first time everyday consumers would be able to shave off that final tenth of a second.
A follow-up tweet added that Model X's will also get shave "0.1 sec on 0 to 60 and 1/4 mile."
This ludicrous upgrade is in large thanks to the PD100D battery, which Tesla announced in August. The new battery almost doubles the lifespan and range of the battery, making it the first electric battery to go more than 300 miles per charge.
Of course, what makes the upgrade all the more interesting is that it's going to be the result of a simple software upgrade, what Musk calls an "Easter egg." If that's just the Easter egg component, who knows what else Tesla has in store for its version 8.1 update. The update will likely happen in December, but if it's anything like the version 8 upgrade, the timeline could suffer delays.
Previous Tesla Easter eggs have included a Mario Kart-esque rainbow charger and a James Bond-themed view screen, so there might be a pop culture element to the Ludicrous speed boost. We'll have to wait until the update rolls out to see.