Elon Musk Is Voted the "Most-Admired" Person in Tech
Because, of course he is.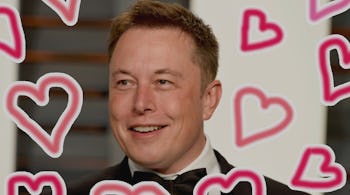 Getty Images / Lily Lawrence
Startup founders love Elon Musk all the way to Mars and back. The CEO of Tesla and SpaceX has once again been named Silicon Valley's most-admired tech leader, according a recent poll.
The not-very-scientific study was part of the latest "State of Startups" awards by seed-stage venture firm First Round Capital, which asked more than 700 members of the startup community to say who they respect the most. Musk won with 23 percent of the vote. Meanwhile Amazon and Blue Origin founder Jeff Bezos received 10 percent, Facebook CEO Mark Zuckerberg got 6 percent, and Steve Jobs garnered 5 percent.
Meanwhile, Facebook COO Sheryl Sandberg — who's donating $100 million, a very admirable amount of money, to charity — was the most admired woman, but saw a scant one percent of the overall vote, although the vote took place before the donation news broke. Her percentage would most certainly be higher if the vote were taken today — you'd hope, anyway.
Musk's popularity isn't surprising. Tesla and SpaceX are often lauded for their ambitions, whether it's helping the world shift to renewable energy sources or colonize Mars.
Plus there's the celebrity factor. Musk isn't just admired by people in tech — Tyler, the Creator is a fan, and other famous people have also sought Musk's attention by tweeting compliments his way.
Musk's also a man of the many. More than 10,000 people signed a petition to have him explain climate change to Donald Trump before he takes office and torpedoes the world's hopes for a more stable environment.
Not that Musk has time to just bask in that praise. When he isn't saying crazy things about us living in a simulation, he's busy doing things, like planning space missions or making solar roofs, among many other projects at his two companies. Next up, a planned SpaceX launch on December 16, and the updated version of Tesla's self-driving Autopilot hardware will be released in a few weeks.