Elon Musk Announces the Year He Thinks We'll Send Humans to Mars
The Mars decade starts now.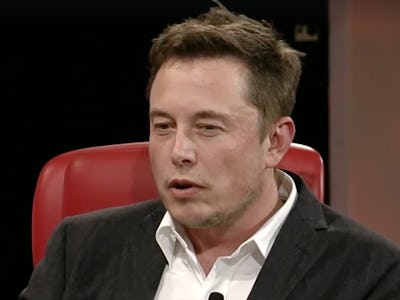 Code Conference
SpaceX is routinely launching rockets into space and returning the first stage rockets to floating barges at sea. But at the Code Conference on Wednesday, the CEO of SpaceX announced that its long-held goal — sending humans Mars — now has a date. According to Musk, SpaceX will launch the first people to Mars in 2024, expecting them to land on the Red Planet in 2025.
"The Earth-Mars orbital rendezvous is only ever 26 months. There will be one in 2018, and another in 2020," Musk explained. "The basic game plan is we're going to send a mission to Mars with every opportunity from 2018 onwards."
As for when those missions could include humans, Musk predicts that the 2024 launch will probably be the earliest, with full human colonization coming not long after. The first explorers will also probably not have a trip back to Earth, so it's important to establish reliable cargo routes that the first colonizers can count on for necessities.
"If things go according to plan, we should be able to launch people in 2024, with arrival in 2025," Musk said.
Musk also hinted at his plans to introduce the "Mars Colonial Transport System" at the International Astronautical Conference this September. When asked whether it would be "big," Musk did pony up that it would, in fact, be "very big." On whether it would be as large as the Saturn 5, the largest rocket ever developed, and the only one capable of lifting people out of Earth orbit, he coyly added, "September," promising a full unveiling at the conference then.
As for whether Musk himself will be onboard any of the early trips to Mars, he seemed to defer the question, suggesting he would be interested in going into orbit within the next five years. And on ditching Earth altogether, Musk refuted the idea that he had ever suggested such a plan, declaring our home planet "great."
Watch the full interview below: