Yep, That Was a Hyperloop in 'Westworld' Episode 2
The spirit of Elon Musk makes a quasi-cameo on the HBO drama.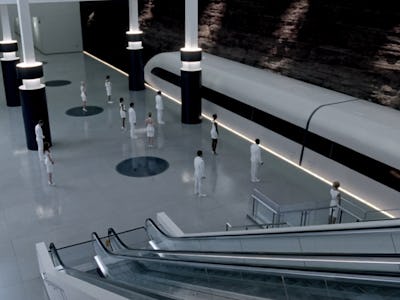 After the credits on the series premiere of Westworld, the action opens on an old-time steam engine, a crucial element to introducing the theme park's guests to the fully immersive 19th century grounds. But Westworld is just a theme park, and the HBO drama actually takes place in the near future, meaning that its real transportation had to be much more advanced. And just as the show borrowed from the past for its old-school train, the beginning of the second episode revealed that Jonathan and Lisa Joy Nolan's series also took cues from what optimists hope will be the future of our rail system.
"I specifically looked at magnetic levitation vehicles," production designer Zach Grobler tells Inverse. "There's a future based on the Elon Musk system, they way they build trains right now to be high speed and go through a vacuum tube. I looked a little bit into the designs there; I didn't want to make it too futuristic. I wanted to make it look like it's all practical and cool in the future."
That train would be the Hyperloop, the brainchild of Elon Musk, the co-founder of PayPal. More specifically, it is a super-fast magnetic rail system that would reach speeds of up to 760 mph. A Hyperloop train could take passengers from San Francisco to Los Angeles in 35 minutes — a pretty big improvement over the 12 hours it takes to make the trip now.
The hyperloop, which Musk made open-source, has spawned a whole new generation of next-generation companies. Right now there are groups working on such trains all around the world, including in Dubai and Slovakia.
With those speeds in mind, the travel time to Westworld laid out by Grobler means that the futuristic resort must be in a very isolated part of the country.
"The idea of the interior of the train is to make it look like it's not just a passenger train, but actually designed for long-distance travel," he said. "It will take you a few hours to get there because it's so far away. Nobody knows where this place is."