Dubai Announces Hyperloop Station Design Contest
Ludicrously expensive semi-experimental flashy technology? Sounds like Dubai.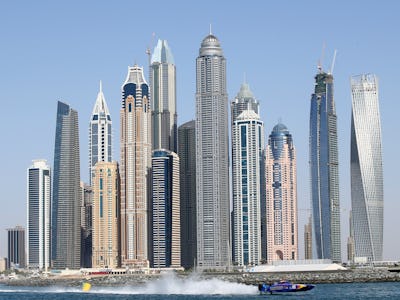 Getty Images/ Francois Nel
Dubai, capital of the United Arab Emirates, one of the most opulent countries in the world (at least for its richest citizens), is rapidly becoming a technology-obsessed futurescape, filled with the craziest inventions and most expensive gadgets money can buy. Seriously — they race supercars against drones, their emergency medical services have jetpacks, and they've built so many buildings in the past decade that it increased local temperatures by three degrees.
Naturally, when Dubai's government heard about the hyperloop, they wanted one. Today, Dubai's government officially backed a design competition for the city's first hyperloop station, which would connect the city to nearby Fujairah (which is only about two hours away by car, but whatever).
The contest is sponsored by Build Earth Live and the collaborative platform Asite, who have sponsored seven other virtual design competitions for various projects.
"BEL Hyperloop will focus on the infrastructure challenges around one of the most exciting innovations of our time in transportation technology – the Hyperloop concept," Nathan Doughty, Asite COO, told BIM Plus. "Hyperloop is a disruptive innovation that could radically alter the world we live in, for the better, and we are excited to see what concepts the teams create."
The competition starts on Monday, September 26, and closes on Wednesday, September 28.
Hyperloop One, the first company to successfully test a hyperloop system, is also behind the project. Competitor Hyperloop Technologies isn't far behind, so we could all be pod people within the next twenty years or so.
It remains to be seen how we'll deal with the prospect of puking.