Watch a Drone Race a McLaren Through the Streets of Dubai
Where else in the world would this happen?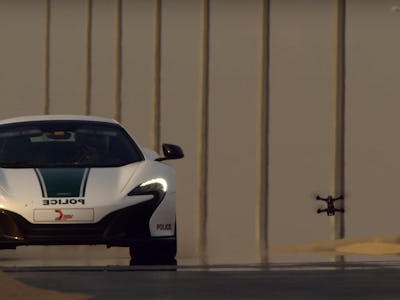 YouTube
In early March, Skydive Dubai will host a World Drone Prix event, the largest drone racing event ever held. More than 100 drone racing teams from around the world will attempt to qualify — on a custom-built course, flying at speeds of about 60 mph — for 32 final spots.
Because this is Dubai, everything is lavish: There's $1 million at stake — though this million will be distributed around. (The team that wins first prize in the race itself will win $250,000.) March 7 and 8 are qualifiers and the actual event gets going March 11 and 12.
Like March Madness, it'll be a knockout format. And the racecourse, the World Organization of Racing Drones has announced, "features multiple pathways, [and] kinetic and static obstacles that promote a strategic approach to racing." It's all "designed to push pilots to their limits and test technical limits of the drones."
The Crown Prince of Dubai, Hamdan bin Mohammed approved the World Organization of Racing Drones' wish to hold the event in his city. He then promoted the event, posting an excerpt from an absurd hype video to his Instagram: a McLaren racing a drone down around Dubai.
Here's the full video:
Better hope there are no Dutch eagles around.