Slovakia Announces Its Plans for a Hyperloop
Hyperloop Transportation Technologies and Slovakia strike a fuzzy deal.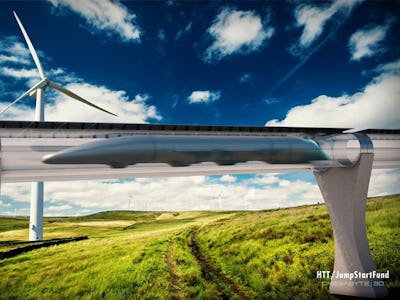 Hyperloop Transportation Technologies
Elon Musk's dream of turning Hyperloop pods into the transportation vehicles of the future just took a big step forward, but it won't be Californians who get to bask in the glory of what will be the fastest land travel ever invented. It'll be Slovakians, maybe.
Hyperloop Transportation Technologies and Vazil Hudak, the minister of economy of the Slovak Republic, announced a tentative partnership today to connect the Slovakian capital of Bratislava to Vienna, Austria, and Budapest, Hungary. While there aren't many details laid out (including make-or-break details like who's paying, or if the Austrian and Hungarian people even want to be a part of this), it's an exciting bit of news for a technology that has seen a few hiccups.
"Hyperloop in Europe would cut distances substantially and network cities in unprecedented ways," Hudak said.
The full speed of a Hyperloop is expected to hit 760 mph. That would slice a typically hour-long drive from Bratislava to Vienna down to maybe 10 minutes, and a Bratislava-Budapest trip down to around 15. That type of innovative transportation cooperation between countries wouldn't be unprecedented in Eastern Europe, though. Remember that the first electric train line in 1914 was between Bratislava and Budapest. But in light of the current refugee crisis, porous borders haven't exactly been in the mix for much of Europe.
"A transportation system of this kind would redefine the concept of commuting and boost cross-border cooperation in Europe," Hudak stated. "The expansion of Hyperloop will lead to an increased demand for the creation of new innovation hubs, in Slovakia and all over Europe."
But again, these plans are still just plans without any concrete details.
Excitement around the Hyperloop started back in August 2013 when Musk hyped up a "fifth mode of transportation" on the SpaceX website. The plan was to send people in aluminum pods from L.A. to San Francisco in 30 minutes. Musk notably has been a little busy with other projects. And then there's the fact that the U.S. government has some interest in throwing some money toward Hyperloop, although Transportation Secretary Anthony Foxx still puts in it in the realm of "moonshot."
This type of announcement might be just what the Hyperloop needs to move from moonshot to reality.