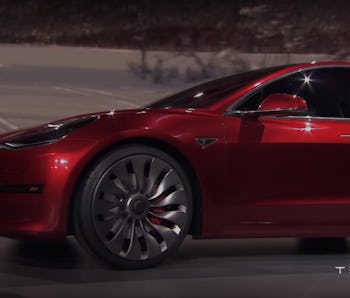 Innovation
Elon Musk Announces 276K Tesla Model 3 Orders, Earning Over $10B in Sales
If you haven't pre-ordered the Model 3 yet, plan on waiting at least until 2018 to get one. 
YouTube
Update: Musk now puts the number of Model 3 orders at 276,000 as of Saturday evening.
The hype was palpable watching the live unveiling of Tesla's Model 3, and company CEO Elon Musk says pre-order numbers for the all-electric vehicle back it up.
Update: The latest figure Musk announced is 253,000 units as of Saturday morning increasing sales to more than $10 billion. Musk says he'll give another update Saturday night for the three day total as well as one Wednesday for the week.
Musk simply tweeted "Now 232k orders" in his latest update on the preorder sales, which have steadily been increasing since before the vehicle was ever even revealed.
The previous figure was 198,000 pre-orders and in less than 24 hours the company added an additional 34,000 to that figure. In the first day, Musk tweeted 180,000 consumers had placed orders for the Model 3, generating what he estimates is $7.5 billion in sales.
Applying the same logic Musk used in assuming an average cost of $42,000 per car, the new total of 232,000 preorders would mean the company made $9.7 billion in sales in just 48 hours.
In comparison to other mainstream car manufacturers though, the company has a long way to go yet. Toyota, the No. 1 selling automaker in the world, sold roughly 10.1 million units across the globe in 2015. However, among all electric vehicles Tesla certainly leads the pack.
With 25,700 Tesla Model S's sold in 2015, it swiftly beat out competition from Nissan Leaf, and the BMW i3. The new, more-affordable price of the Model 3 is obviously attracting many more consumers to the electric vehicle market and it's likely going to cause quite the backlog.
For consumers not among the 232,000 preorders shipping in 2017, it's unlikely they'll be able to get a car before 2018. On the other hand, Chevy's comparably priced 200-mile range EV, the Chevy Bolt, is set to ship at the end of the year and pre-orders have not been as enormous as Tesla's. General Motors also has the manufacturing capabilities that comes from decades of manufacturing to crank out a lot of cars if need be.
A lot of consumers will likely have to make the decision based on how quickly they want to receive a new electric car.