Elon Musk Just Got a Position in the Trump Administration
He'll be sharing his industry knowledge on a regular basis.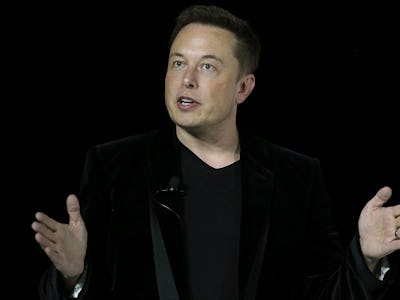 Getty Images / Justin Sullivan
Elon Musk joined Donald Trump's Strategic and Policy Forum on Wednesday, ahead of a scheduled meeting at Trump Tower with some of the biggest names in the U.S. tech industry. Chris Geidner, BuzzFeed's legal editor, posted a picture of a press release from the president-elect's team early Wednesday morning. According to the release, Musk will join the forum alongside Indra Nooyi, CEO of PepsiCo, and Travis Kalanick, Uber's CEO. The forum will meet with President Trump on a regular basis to share their expertise and knowledge, which the president plans to use to inform his policy plans.
With this announcement, Trump's team has expanded the input it will receive from the tech industry. The most high-profile industry link was Peter Thiel, a libertarian who supported Trump in the November election. Thiel helped organize the Wednesday meeting, where Musk will be joined by big names like Microsoft CEO Satya Nadella and Apple CEO Tim Cook.
Names previously announced for the forum include:
Stephen A. Schwarzman (Forum Chairman), Chairman, CEO, and Co-Founder of Blackstone;Paul Atkins, CEO, Patomak Global Partners, LLC, Former Commissioner of the Securities and Exchange Commission;Mary Barra, Chairman and CEO, General Motors;Toby Cosgrove, CEO, Cleveland Clinic;Jamie Dimon, Chairman and CEO, JPMorgan Chase & Co;Larry Fink, Chairman and CEO, BlackRock;Bob Iger, Chairman and CEO, The Walt Disney Company;Rich Lesser, President and CEO, Boston Consulting Group;Doug McMillon, President and CEO, Wal-Mart Stores, Inc.;Jim McNerney, Former Chairman, President, and CEO, Boeing;Adebayo "Bayo" Ogunlesi, Chairman and Managing Partner, Global Infrastructure Partners;Ginni Rometty, Chairman, President, and CEO, IBM;Kevin Warsh, Shepard Family Distinguished Visiting Fellow in Economics, Hoover Institute, Former Member of the Board of Governors of the Federal Reserve System;Mark Weinberger, Global Chairman and CEO, EY;Jack Welch, Former Chairman and CEO, General Electric;Daniel Yergin, Pulitzer Prize-winner, Vice Chairman of IHS Markit