Here's the Guest List for Today's Trump Tower Tech Meeting
Elon Musk and Satya Nadella are on the list.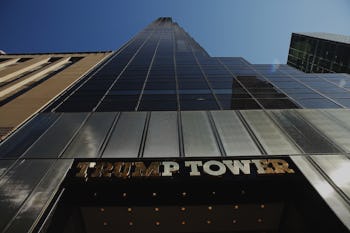 Getty Images / Spencer Platt
Donald Trump is set to meet with some of the biggest names in the technology industry on Wednesday, with a focus on jobs and other topics that could form the basis of the next four years in tech policy.
The man who helped set the meeting up is Peter Thiel, a Trump transition official who made his mark as co-founder of PayPal. Thiel is a controversial figure in Silicon Valley, with his pro-Trump views clashing with many, but he may work as a bridge between the tech industry and the coming administration. For example, for all their talk otherwise, there are some areas Thiel and Tesla's Elon Musk agree are important, like government intervention where necessary.
Another area that reportedly may come up is repatriation, the idea that offshore cash should return to U.S. soil. This is an idea that's gained traction among some tech figures, like Hyperloop One CEO Rob Lloyd, who said he was "encouraged" that capital could return.
The meeting is set to include:
Not on the list is Bill Gates, who had his own meeting with Trump on Tuesday, and talked about innovation: "We had a good conversation about innovation — how it can help in health, education, impact of foreign aid and energy," Gates said. "A wide-ranging conversation about the power of innovation."