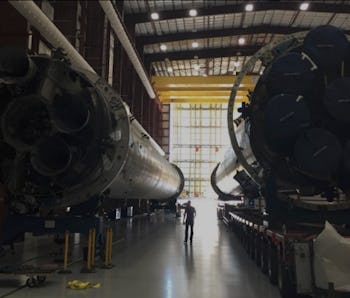 Innovation
Elon Musk Shares Photo of Two SpaceX Falcon 9 Rockets: "By Land and by Sea"
Twitter/ Elon Musk
Elon Musk is collecting used rockets. So far, he's got two. The other ones are still out there, but they're not exactly in one piece.
On April 8, SpaceX successfully landed a Falcon 9 rocket on an autonomous drone ship. It took five attempts, but when it finally came together, the results were spectacular. Musk's aerospace company already had brought one Falcon 9 down successfully at a land-based facility, a feat rival Jeff Bezos' Blue Origin managed in late 2015, but the drone ship landing was particularly triumphant.
It's important for both rocket-based spaceflight companies to be able to re-use the first stage parts of their rockets, in order to keep flying a string of resupply missions, satellite launches, and eventually tourism trips, and orbit trajectories mean the rockets can't always come down on land. Musk is predictably stoked about finally landing a Falcon 9 on his drone ship Of Course I Still Love You, and the rocket's return to the hangar and launch pad from the sea has been an exciting, hilarious journey. But it's back, and Musk wants the world to know. We're assuming that's Musk, standing silhouetted against the light from outside the hangar and in between the two enormous Falcon 9s.
The one on the right is the most recent rocket (the one that landed at sea), if the blue covers over its burners are the same ones from the tourist video earlier today (it also appears to be on the same huge flatbed truck). The hard ground-landed rocket seems to be in some state of disassembly. The sea-landed falcon nine will go through extensive testing to check if it's ready to fly, but so far it seems to be in pretty good condition. Either way, we should know in the coming days or weeks just how successful SpaceX's dramatic sea landing really was.