Elon Musk Throws Shade at 'Fortune' With 'Sponsored Articles' Tweet
The magazine's battle with Musk centers on a question he won't address.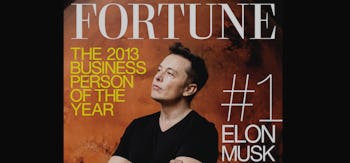 Elon Musk's fight this week with Fortune magazine continued today when the Tesla CEO tweeted simply "Sponsored articles" and shared a link to an article that mentions the magazine recently ran articles paid for by the Koch brothers (sample headline: "What Electric-Car Lovers Get Wrong About Fossil Fuels").
The fight began in earnest on Tuesday when Fortune ran a story claiming that Tesla chose not to disclose the fact a driver was using Autopilot in his Tesla when it struck a tractor trailer and killed him on May 8. Ten days later, Tesla stock surged after receiving a favorable "buy" rating from Goldman Sachs. On June 30, the National Highway Traffic Safety Board announced it was investigating Tesla over the crash.
Musk responded in his own way, and Fortune ran another piece today on it: "Apparently, a crash related to Tesla's autopilot feature was material, before it wasn't."
Musk didn't reply to the specific accusation that Tesla sat on the information to protect its stock price, but clapped back to Fortune with this on Tuesday: "BS article increased your advertising revenue," and pointed to the fact that Autopilot could very well be saving 500,000 lives a year.
Driver Joshua Brown was a Tesla enthusiast and an Autopilot convert. He even shared this video of the software preventing a wreck back in April, less than a month before he died. Musk shared the video and it's been watched more than 3.2 million times.
Musk apparently isn't finished fighting Fortune: He shared this sympathetic article from EV site Electrek on Wednesday, which took great pleasure in pointing out that Fortune's ad department published this commentary piece in March by Jim Mahoney, whose bio at the end reads: "Jim Mahoney is a board member of Koch Industries, where he previously served as executive vice president for operations and compliance."
So, yes, sponsored content. Your move, Fortune.