Tesla Model S Smashes Into Trailer, Driver Somehow Walks Away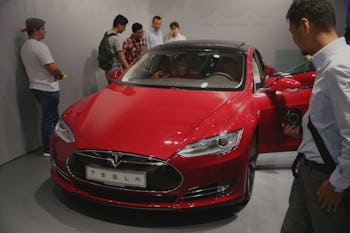 Getty Images / Sean Gallup
A Tesla Model S crashed into a truck at "tremendous speed" on Tuesday while driving around Germany's autobahn, the legendary series of highways with minimal speed restrictions. But as a testament to the car's impeccable safety record, the driver was somehow able to exit the vehicle and walk away from the scene.
The 56-year-old man was travelling along autobahn 5 near the city of Bruchsal when the collision occurred. One theory currently put forward is that the driver could not merge into the right lane to avoid a truck that was being used to shield a construction site. The Model S lodged itself underneath the truck, and remarkably managed to remain in relatively good condition. Bruchsal's fire department spoke to Tesla about how to handle any potential electrical fires, but the battery pack was largely intact. The man suffered serious injuries, but his condition was stable.
Tesla CEO Elon Musk shared the story with his Twitter followers on Thursday morning:
The Model S has been showered with praise ever since its release for its impeccable safety standards, scoring an unheard-of five stars in every National Highway Traffic Safety Administration (NHTSA) safety category in August 2013. Jeffrey Katzenberg, CEO of DreamWorks Animation, claimed in October 2015 that the car "saved his life," stopping a bad collision from turning out worse. Features like autobrake have helped drivers react to situations faster than they ever could, with posts on the company message boards praising Tesla engineers for getting them out of potentially dangerous situations.
Musk hasn't stood still since then, though. After a fatal crash in May, where a driver using the autopilot feature collided with an oncoming vehicle, Tesla set out to improve the autopilot safety warnings.
Although Tuesday's crash is a sign that safety is at the forefront of Tesla designers' minds, it probably goes without saying that it's best not to try this at home.