Elon Musk Deflects Praise From Tesla Drivers About Car's Safety
DreamWorks Animation CEO Jeffrey Katzenberg isn't the only one who claims that Traffic-Aware Cruise Control prevents accidents and saves lives. 
by Sam Blum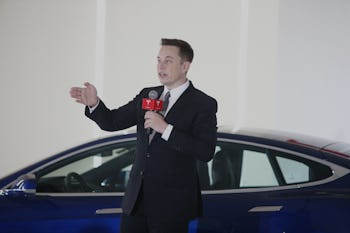 Getty
Tesla's Model S is living up to all of the hype that buffeted its newest software update, and prevents fender-benders and traumatic accidents that could have left some drivers seriously injured or possibly even killed, according some Tesla motorists.
Among the lucky drivers is Jeffrey Katzenberg, CEO of DreamWorks Animation, who claims that Model S and all its technology prevented an collision from taking a grim turn. After Katezenberg shattered his wrist and totaled his car, he told the Hollywood Reporter: "Thank you Elon Musk, for saving my life"
Musk, for his part, deflected the praise, instead invoking everyday Tesla employees.
Not-so-famous Tesla owners are also sounding celebratory alarms for Model S.
Entries on a Tesla Motors Club message board that extol the reaction time of the Model S Autobrake system, might dispel some of the anxiety and skepticism that blanketed very early reviews of the car.
Quite simply, fewer Teslas have been totaled and smashed into amorphous sheets of steel because of features like Autobrake and Traffic-Aware Cruise Control, and because of that, Elon Musk and his shadowy brigade of engineers might have some reason for a grin or two.
A user named Jsduda posted this on the message board:
"Car in front of me slams on brakes, while I am still accelerating through yellow. Alarm goes off and car brakes itself maybe a split second before I realized what was happening."
Scottreds2K writes:
"Several weeks ago, I was in normal DC bumper to bumper traffic using TACC. At one point when traffic started to move, and then stop again suddenly, the impending doom warning went off and TACC stopped the car in plenty of time, but the car in front of me rear ended the truck in front of him. I think I would have stopped in time, but the car did it for me, and the guy in front of me wishes he had TACC."
JanetM writes:
"Friday I had to take a pet to a short-notice vet visit in heavy rain. On the way home a car slammed on the brakes in front of me, in the exact moment I was checking the passenger mirror to make a lane change. The collision warning sound alerted me and the car started to brake before I even realized what was happening. I'm pretty sure I would have hit them if not for the alert/auto braking. Pretty sweet."
Now, if your typical motorist could only afford the Model S' starting price tag of $70,000, then we might see less tow trucks and roadblocks syphon free-flowing traffic on highways everywhere.