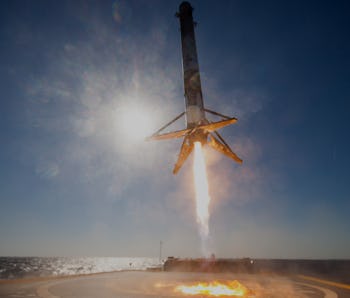 Innovation
SpaceX Releases 360-Degree Video of Falcon 9 Rocket Landing on a Droneship
Watch this historic event from all angles.
SpaceX
SpaceX has just released this eye-popping 360-degree video of its Falcon 9 rocket landing on the droneship Of Course I Still Love You back on April 8.
It was the first time humans have landed a rocket on a floating droneship and it earned Elon Musk and co. praise from none other than President Barack Obama.
"Here's the engine, it's slowing down, legs are deployed," said Kate Tice, a process improvement engineer at SpaceX who was doing play-by-play on the launch that Friday afternoon.
The landing was the fifth attempt to land on a droneship by SpaceX. So why land in a remote-controlled floating barge? There are a few reasons, but for one, you don't have to use as much fuel to return to a landing site on dry land, meaning you can carry heavier payloads into a higher orbit at a higher velocity — if you use most of the fuel to get to the destination and less of it to return.
Now that you know, watch the video.
If you're on mobile: Just move your phone to find rocket. Desktop: Click and move screen. We suggest adjusting your point of view so you can see the rocket make its full descent.
If you'd like to see what it looks like when the rocket doesn't land, Elon Musk released this video in January after the failed third attempt: