Elon Musk Says Tesla Model 3's "Third Reveal" Will Be Spring 2017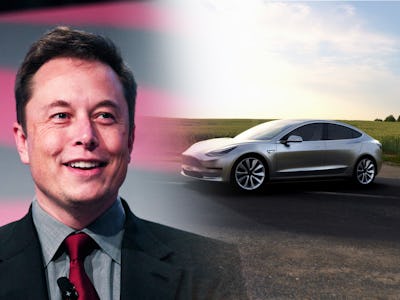 Getty Images (Bill Pugliano) / Tesla
Thursday night, Tesla shareholders voted to go ahead with the SolarCity acquisition. CEO Elon Musk stuck around for a post-vote question-and-answer period, and let slip a huge hint about the status of the Tesla Model 3. An audience member, in true audience member style, elected to sneak in a non sequitur to the Q&A and ask about the Model 3 instead of the merger. Musk demurred, but then answered anyway. The third reveal, he suggested, would be in the spring of 2017.
"Today is not the time for that announcement, but, I mean — it's probably, yes, I don't know, beginning of spring or something like that, yes. Three or four months from now."
We've already been treated to two Model 3 reveals. In the first, we got to see the car itself. (Soon thereafter, we got to see one out in the real world, prowling California streets.)
In the second, we learned that all Teslas from now on, including the Model 3, would ship with the hardware necessary for full autonomy.
Before Thursday, we'd heard nothing about a third reveal. Perhaps one of the shareholders in attendance knew something we did not.
Inverse expected that Tesla would announce full autonomy, which it did, but also predicted — based on a few clues, and Musk's Twitter activity — that the Model 3 would come equipped with a heads-up display, or HUD. Odds seem decent that the third reveal, then, will involve the HUD, but at this point it's all speculation. We'll find out once and for all in "three or four months."
Earlier in the Q&A, Musk also spoke a little bit more about the Model 3, just to clear up any confusion about its charging costs. Model 3 owners will not be treated to unlimited free charging, nor will any future Tesla owners. Transportation costs will still be far superior to gasoline-powered cars, of course — and soon-to-be Model 3 owners need not fret about these minimal charges, so long as they also invest in Tesla solar roofs. Musk also announced that Tesla solar roofs would cost "less than a normal roof," which makes the whole package a pretty appealing clean energy solution.