Feast Your Eyes on a Murdered-Out Tesla Model 3 Prowling California Streets
One week after the unveil, the baby's left the house.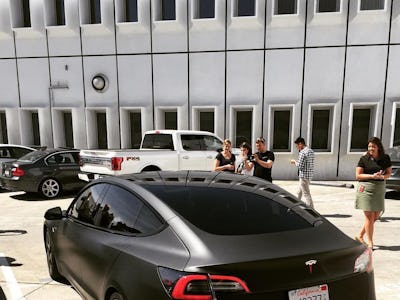 Twitter (@DavidLeeOrr)
The Tesla Model 3 only just came into the world, and already it's venturing out on its own. Two Model 3s have been seen out in the mean streets – one, in silver, in Marina Del Rey, California; another, murdered-out, in Fremont, California.
The silver finish is elegant. The photos indicate that Tesla is filming or shooting for official Model 3 videos and images. The fancy camera rig is attached to a Model S: Tesla is evidently symbiotic. To see the two Models next to each other is actually informative, and allows one to compare the two Teslas' profiles.
The matte-finished Tesla — murdered-out in all-black wheels and windows — is, however, subtly flashy. The term "murdered-out" is used by car fans to describe rides that are completely black in appearance, ostensibly like the grim reaper. Murdered-out cars are seldom sold as such. Instead, they're blacked-out through custom, aftermarket work: black rims are added, windows and headlights are tinted, and (if needed) an all-black paint job is slapped on. The murdered-out Tesla seen rolling through California may be the same one Tesla showed off at its Model 3 unveiling event, though it's still unclear whether the car's tint job and rims will be offered as standard options. (And we'd like to see those headlights dimmed a little, too.)
Regardless of the add-ons, Elon Musk confirmed that Tesla will "probably" offer the matte black body option come actual order and production time, given its "surprising" popularity in previous Models. If you wanted to get this particular Model 3, though, you'd be spending far more than the starter-kit's $35,000.
Before being spotted in the wild, we've already learned a fair amount about the Model 3: we learned what sorts of people were waiting in line to buy it, we discovered some previously undisclosed information about it in the first test drive, and we learned that its enormous windshield may have a heads-up display. The hype surrounding the unveiling and the mass-market Tesla – along with the beautiful functionality and practicality of all its vehicles – made the first week of reservations the biggest product launch of all time: Tesla made $14 billion in implied future sales.
Despite these two cars making it out of the Tesla house, they're a long ways off from living in your garage. Tesla's said Model 3s won't begin shipping until the end of 2017, which, in all likelihood, means early 2018. And even that is optimistic: Musk has explained that neither he nor Tesla writ large were expecting this many orders, and that they'll need to rethink production plans to keep up with the staggering demand. Especially if enough people feast their eyes on the murdered-out Model 3.
All of these positive signs maybe ought to tell you that it's a good time for you to go invest in some Tesla.