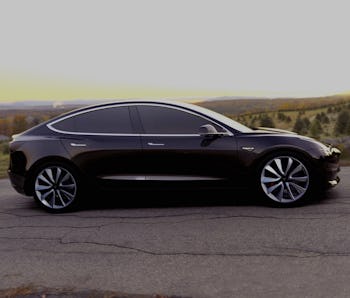 Innovation
Elon Musk Tweets Point to an HUD in the Tesla Model 3
Tesla CEO Elon Musk has not been altogether careful with his words.
Tesla Motors
Last week, Tesla Motors founder and CEO Elon Musk pulled back the curtain on the Model 3, the company's luxurious, mass-market, electric vehicle. We learned many things about the car. Many. But we only got half the picture.
Elon Musk, lover of mystery and intrigue, has repeatedly invited further allure: he is, in no way, done conducting the hype train. And so, he's alluded to "part two" of the great unveiling — many times. Still, the half of the picture that remains is not so opaque. That's because Musk, who seems to be a grownup version of the most imaginative child you've ever encountered, can't help but contain himself. It's only been a few days since Thursday's "part one" unveiling, and yet we already have enough to make a decently informed guess as to what the supposedly far-off part two may bring.
Perhaps the most bizarre design feature in the Model 3 is the lack of any dashboard — or, rather, the lack of an instrument panel. Gone are the gauges, the odometers, the speedometers; gone are the warning lights. In many post-reveal test drives, the driver would explain that the car's current speed could be presented on the new 15-inch display.
But that's not ideal, and nor is it likely to impress lawmakers and police officers who want drivers to know their exact speeds. Despite what the test drivers say, such a speedometer can't be "really easy to see" – at least, not compared to something right in front of your face. If you have to take your eyes, not just down from the road to gauge your vehicle's speed, but also away from the road, something's not right. Musk and Tesla can subvert all they want, but it doesn't seem altogether wise for them to abandon highly visible instrument panels and informational displays.
Luckily, Musk has been active on Twitter to project the future of the Model 3 steering system. On Sunday, he participated in what he later called an "impromptu Twitter AMA," answering Model 3 questions from random inquirers. Many wondered about both the odd steering wheel and the missing instrument panel.
Here's a collection of Musk's various hints, from which we can conjure an image of what's in store for the next round of the Model 3 unveil.
In which Musk gets brusque:
In which Musk waxes poetic:
In which Musk foretells:
In which Musk gets hip:
The not-so-unreasonable guess, then, is that the next Tesla Model 3 spectacle will feature the "steering system" and the interface. The lack of an instrument panel, Musk says, "will make sense after part 2 of the Model 3 unveil." And whatever is revealed will be quote-unquote super next level.
All of which point to a heads-up display (HUD) projected onto the enormous windshield. (Worth noting that successful projection would require special glass, which is something to which Tesla's already accustomed. It's also worth noting that, while the rear window and sunroof will, under one option, be one connected piece of glass, the windshield will not.)
Twitter, for its part, certainly agreed. Most were idly speculating, but one user, in particular, stuck out:
And Musk is no stranger to Iron Man-esque features. In late 2013, he displayed a projection-based HUD that was in use at SpaceX. He describes it as "freestanding glass projection, which was the sort of technology used in the Iron Man movies," seen in the video below at about the two-minute-and-18-second mark.
Finally, we can compare the Model 3 design sketches – as tweeted by Musk – to the actual car shown in the unveiling. Note the one major difference: the steering wheel.
The top of the steering wheel might just interfere with your vision of the HUD, don't you think?
If Tesla does indeed release an HUD for the Model 3, then we may rest assured that it'll release an HUD far surpassing any existing in-car HUD. And it will certainly cause Model 3 reservations to skyrocket once again. Tesla might have its production hands even fuller than it ever knew was possible.