Elon Musk Unwinds with the Music of Weird Al After Tesla Merger Talks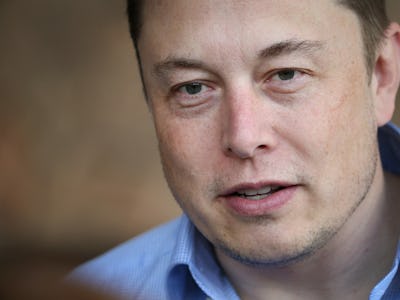 Getty Images / Scott Olson
It's been a busy month for Elon Musk. After announcing the date for the Tesla/Solar City merger vote, Musk took to the stage on October 28 and unveiled a new solar roof that forms part of a Tesla solar strategy.
On Sunday, Musk took some time out of his busy schedule to kick back and listen to some music in one of his company's electric cars. His journey was accompanied by the sounds of parody musician "Weird Al" Yankovic, whose 1996 single "Amish Paradise" parodied Coolio's "Gangsta's Paradise."
"Playing Amish Paradise in my Tesla," Musk shared with his 5.8 million Twitter followers on Sunday.
What could it mean? Does Musk hark for a simpler time, hoping to join an Amish community and reject his newfangled techno-revolution? The entrepreneur has been focusing on how to solve the world's climate change crisis, calling for a carbon tax to reduce pollution. It's fair to say that if we all adopted the Amish lifestyle, that would reduce emissions faster than you can say "Tesla Model 3."
Or, perhaps more likely, Musk is relaxing after a stressful period of managing the Solar City and Tesla vote. Shareholders are scheduled to vote on the merger November 17, and it's not clear what would happen if the proposal does not pass. Musk's recent efforts have been focused on proving why the two companies will form a valuable merger.
Outside of the two companies, Musk's third venture, SpaceX, has been working overtime to explain what happened when a Falcon 9 rocket carrying a Facebook satellite exploded in September. The mystery has led to sleepless nights and calls from a NASA committee to rethink the rocket fueling strategy. (SpaceX expects the Falcon 9 to fly again in mid-December.
It's unlikely that Musk will find any inspiration from "Weird Al" about what may have caused the rocket explosion, nor would he explain how to merge two future-facing companies together. But now we have an idea as to what driving round in Musk's Tesla is like, and the answer is "kind of cheesy."