Elon Musk Jokes His Trip to the Pentagon Was "About a Flying Metal Suit"
Elon Musk spoke with officials at the Pentagon today about "innovation" -- but no one else was in the room where it happened.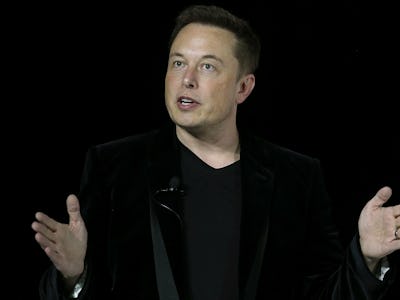 Getty Images / Justin Sullivan
SpaceX CEO Elon Musk visited the Pentagon today for a planned meeting with Ash Carter, U.S. Secretary of Defense, during what the Department of Defense describes as Carter's attempt to "build bridges" in technology and learn more about the world of innovation. The meeting was announced earlier this week, but even after it took place, details about what exactly went down were still slim.
This evening, Musk joked the reason for his visit had to do with "something about a flying metal suit…" He loves an Iron Man comparison — as does everyone else, even the people who made Iron Man 2.
But it's no secret that SpaceX, along with its space exploration endeavors, has been actively competing for military contracts — but certain lines of ethics have to remain uncrossed. "The secretary knows very well the rules and regulations required, and how to keep those issues separate and apart and transparent," press secretary Peter Cook told reporters on Monday. Carter has been no stranger to the high-rises and startups of Silicon Valley, connecting with tech leaders as well as establishing the Defense Innovation Unit Experimental (DIUX) both in Boston and San Francisco.
"The secretary, as you know, has been reaching out to a number of members of the technology community to get their ideas, their feedback, find out what's going on in the world of innovation," said Cook. "To make sure that … the Department of Defense remains on the cutting edge, but beyond that I know he's just looking forward to having a conversation on innovation." What remained unclear is whether or not Musk was actually meeting with Carter as part of the DIUX initiative, given SpaceX's current goals and how well they fit into the program.
Musk might also have been brought by in relation to the latest version of the Senate's National Defense Authorization Act, which is being debated this week. SpaceX was just certified to launch military assets into space last year, and tense situations — including a 2014 lawsuit by SpaceX against the Air Force — have plagued relations in the past.
Bringing SpaceX in to talk over any of these issues is a smart move on Carter's part, as he continues his move into bridging the gap between the minds of the tech world and the federal government.