Elon Musk Says SpaceX Will Reuse Falcon 9 Rocket in September or October
There's no word on the mission,  but we have a guess.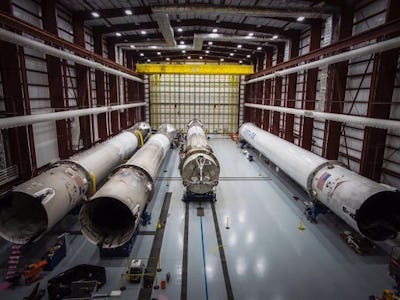 SpaceX is getting ready to relaunch a Falcon 9 rocket this fall in a major step toward CEO Elon Musk's ultimate goal of providing space flights with exclusively reusable rockets.
On Tuesday, Musk tweeted that he plans to relaunch one of the four Falcon 9 rockets that will have already completed missions by this fall.
"Aiming for first reflight in Sept/Oct.," Musk announced on his Twitter account on Tuesday night.
There's no word on what the reused rocket will be used for, but the European satellite operator SES, which has already launched one satellite with SpaceX, has expressed interest in being the first satellite operator to use the same rocket for two missions.
A year ago, SES CTO Martin Halliwell told investors in London that the "launch vehicle for SES-9 will be a recoverable vehicle." He added, "We believe they will be able to recover it on this mission. We actually asked them: If we do recover it, can we use it again and get a good price discount? We're still in discussions."
Musk's tweet doesn't offer much time, but the company has been turning out milestones at a dizzying rate. This past December, SpaceX launched its first Falcon 9, and the other three launches followed in quick succession. Next week, SpaceX will launch another Falcon 9 with two satellite payloads.
Musk is looking even further into the future: he announced last week, he expects to be shooting humans off to Mars by 2024.