Check Out SpaceX's 'Fantastic Four' Falcon 9 Rockets
SpaceX shared a family photo featuring four of its Falcon 9 rockets today.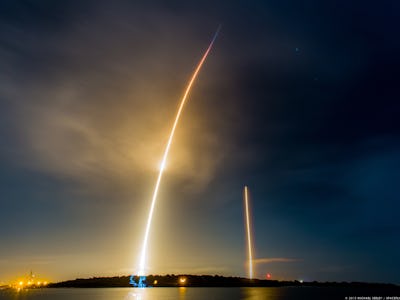 Jared Haworth / SpaceFlight Insider
Watching the success stories out of SpaceX over the past few months has been a sight. With several recent successful launches to the International Space Station and another planned for July 16th, Elon Musk's venture into space travel is already looking to the horizon; their first manned mission to Mars is already being touted for 2025.
All of this wouldn't be possible without what might be SpaceX's best-known creation: the Falcon 9 rocket. The rockets — reusable to save money for other things, like sending folks into space — have assisted in launching several Dragon cargo spacecrafts, and are often the highlight of a launch, thanks to the often risky sea-based landings that the rockets complete at the end of their missions. Today, SpaceX decided to give the Falcon 9 some love on its Instagram, posting four of them on their downtime. Rockets: They're just like us!
In December of last year, SpaceX successfully landed the first Falcon 9, carving out the path for a second, third, and fourth mission.
Last week's Thaicom mission concluded with a perfect landing upon the droneship Of Course I Still Love You, where the rockets normally land after launching out of Cape Canaveral. The ongoing missions have led to some incredible footage from space, including last week's landing, from the rocket's perspective. 
The Falcon 9 has proven to be just as, if not infinitely more entertaining than the actual superhero team called the Fantastic Four (come on, just admit it). Landings via livestream have brought enthusiasts in like a wave, and SpaceX doesn't seem like it'll disappoint with these rockets anytime soon. Next week's launch will break the small trend of droneship landings, setting the rocket back on solid ground at Cape Canaveral.