SpaceX Will Return to the ISS on July 16
When the Falcon 9 returns to Earth, it will attempt to land on solid ground.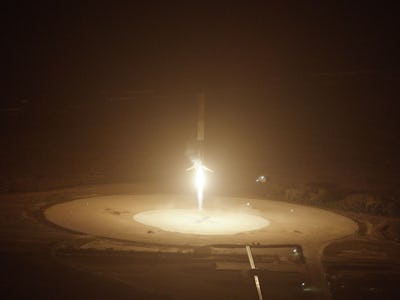 SpaceX
SpaceX's next commercial cargo restock mission to the International Space Station has an official launch date. Using its Falcon 9 rocket, which launched and successfully landed on a droneship after a cargo supply mission earlier this month, SpaceX will send another Dragon spacecraft to deliver crew supplies and station hardware.
NASA announced today that the Falcon 9 is expected to lift off some time after (but no earlier than) 1:32 a.m. Eastern on Saturday, July 16. The Falcon 9 carrying the Dragon spacecraft will take off from Space Launch Complex 40 at Cape Canaveral Air Force Station and attempt to land back on solid ground at Cape Canaveral — no droneship landing attempts this time. The Falcon 9 first landed back on earth (see below) back in December.
Supplies to be delivered on the unmanned mission include the first of two international docking adapters. These adapters will help both Boeing's CST-100 Starliner and SpaceX's Crew Dragon "dock" to the ISS when transporting astronauts in the future. The Dragon's other upcoming functionalities are to include commercial space transport, and SpaceX is currently neck-and-neck with its competitor, Boeing. Earlier this month, Boeing announced an official 2018 launch date for its first mission occupied by astronauts, a bold move against SpaceX, which has been otherwise seeing a much more impressive spring season. Despite the competition, this particular mission will be mutually beneficial to the rivals.
The year kicked off with wavering success for previous launches and landings under the SpaceX umbrella, but in April, things took a turn for the best. SpaceX's multiple missions are part of an effort to reuse spacecraft for multiple missions. This will make the practice of space travel more sustainable, as well as keep costs down while getting more done. The continued success of these unmanned missions will help push SpaceX further along the path toward commercial space travel and the advancement of unmanned spacecraft technology.
This will be the ninth mission by SpaceX under NASA.