Watch Today's Falcon 9 Landing From the Perspective of the Rocket
An awesome video from SpaceX put enthusiasts inside of their Falcon 9 rocket during today's landing.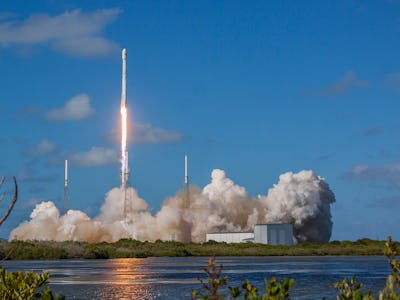 SpaceX
After delaying the original launch over minor concerns, today's launch of SpaceX's latest Thaicom 8 mission went off without a hitch. The Falcon 9's landing was expected to come in hot at high velocity, and SpaceX's Elon Musk thought it might end in "some slight tipping." The successful landing marked the third successful droneship landing for SpaceX in a winning streak that elevates with each new mission. After delivering the Thaicom 8 to a nominal supersync transfer orbit, the Falcon 9 rocket made its way back to its landing pad at sea.
As things continue to get better for the company, the opportunity to bring enthusiasts closer to the action has risen. Today, hours after the landing, SpaceX released an all-new video that brought viewers up-close and personal with today's landing on the droneship Of Course I Still Love You.
Filmed from the point of view of the rocket itself, the dizzying video has been sped-up to keep things from getting too sickly for hi-definition viewers. The rocket is shown entering Earth's atmosphere after cruising along the side for a while, then seemingly hitting its mark with the ease of a rocket that's been at this for a while. It traveled to about 22,236 miles above Earth's surface before making its epic descent back toward the ocean. The video may be short, but the view sure is incredible.
This was the 30th mission overall for SpaceX, and one that continued the company's tradition of reusing rockets for missions into orbit or to the International Space Station. The missions remain unmanned for now, but SpaceX is still in the race toward commercial space travel. The company's first manned mission is set to take place within the next 2-3 years. For now, though, the company is acting as a courier for supply missions and other cargo transports.