10 Moments That Have Defined Elon Musk's 2018 So Far
It's halftime on a busy, slightly toxifying year for Elon Musk.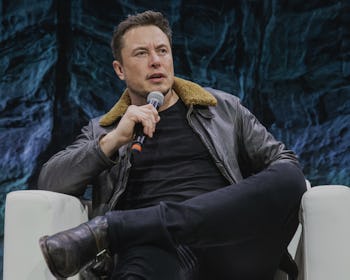 SXSW publicity photo
It's halftime on a very busy, slightly toxifying year for futurist, engineer, entrepreneur, cultural commentator, and media critic Elon Musk. This week, as we move past the halfway point of 2018, we're taking a look back at 10 moments that have defined Musk's past six months.
Since the year began, Musk has made new enemies (#9), called out publicly — or more precisely, bullied, given his massive audience on Twitter — private citizens who are critical of his behavior, and as a result, his dedicated fans have threatened journalists who investigate Tesla, his electric car company.
Meanwhile, he's been largely responsible for developing increasingly powerful reusable rocket tech with SpaceX that undoubtedly is inspiring a new generation of engineers (#1). Whether you think it's possible to have mixed feelings about Musk, he's proven himself an even more polarizing figure than ever this year. Between the controversy around Musk's own cult of personality, there were flamethrowers (#8), plans for Chicago tunnels (#2), and relationships with indie musicians (#6).
The following is a web version of "Musk Reads," the weekly rundown of essential reading about futurist and entrepreneur Elon Musk. Sign up for the weekly Musk Reads newsletter to get it each Friday in your inbox.
10. The Giant Power Plant Takes Form
Tesla's solar efforts received a big boost in May when South Australia's new government confirmed plans to place the company's batteries and an array of solar panels on 50,000 homes, creating the world's largest virtual power plant.
It follows the construction of the world's largest battery in the state last November at 129 megawatt-hours, spurred by a bet with software billionaire Mike Cannon-Brookes.
9. Musk Takes On the Media
In a controversial move, a defensive Musk announced plans in May to introduce a news and media rating site where members of the public could rate sources.
Pravduh — a twist on the Soviet Union's "Pravda" newspaper — was announced after weeks of Musk dismissing skewed Autopilot reporting and rumors of Tesla's bankruptcy.
Musk's crusade received support from comic book writer Stan Lee, but media professionals criticized his dismissal of legitimate reporting.
8. 'Boring, Boneheaded Questions'
Dubbed "arguably the most unusual call I have experienced in 20 years" by analyst Adam Jonas, Tesla's first quarter 2018 conference call made headlines as Musk dismissed questions as "boring," "boneheaded" and "not cool." Musk later explained that the question was boneheaded was because the newsletter already answered the question.
Musk also broke with tradition by taking a question from a retail investor, YouTuber Galileo Russell from Hyper Change TV.
7. Flamethrower Hits the Streets
Musk's most bizarre product reached consumers' hands. In June, the first 1,000 Boring Company-branded flamethrowers, at $500 each, reached consumers.
Marketed as "not-a-flamethrower" to avoid regulatory issues, the device came with some strange terms and conditions, suggesting people use it to cook.
Musk claimed he got the idea to use merchandising to fund his new venture from '80s sci-fi classic Spaceballs.
6. Musk and Grimes Get Official
Musk and synth pop artist Claire Boucher — known professionally as "Grimes" — went official at the Met Gala in New York City in May.
The pairing has inspired fan fiction, a Chrome extension, and a slew of memes.
Boucher changed her name to "c" after discussion with Musk, while Musk has criticized the low payout from streaming services like Spotify. The pair both share a love of jokes about artificial intelligence.
5. Tesla Solar Roof Starts Shipping
Tesla's blend-in solar roof tiles, demonstrated in October 2016, started shipping to the first consumers with an "infinity" warranty and a competitive price.
Amanda Tobler was among the first to receive the roof in March, and made some incredible discoveries about the roof-replacing system, like how the family instinctively began rethinking their energy consumption.
4. Tesla Makes 5,000 Model 3s in One Week
Tesla Model 3, the $35,000 electric vehicle that entered production last July, is finally reaching customers at speed.
The fourth quarter production report made for bleak reading, as Tesla only made 2,425 Model 3s, despite expecting to produce 20,000 in the month of December.
That figure hit 9,766 in the first quarter report, and at the end of June Tesla produced 7,000 cars in seven days, and 5,031 of them were Model 3s.
Tesla had a backlog of around 400,000 $1,000 reservations at the start of production, and it looks like the company is finally picking up its pace.
3. Musk's Big Payout
Tesla dangled a big carrot in front of Musk in January, with a 12-stage reward paid out over the next 10 years if Musk adds $600 billion to the company's market cap.
The $2.6 billion plan was approved by shareholders in a landslide vote in March.
Musk has to remain as either CEO or both executive chairman and chief product officer to receive the full bonus. Tesla is valued at $52.6 billion today, and such a jump would value it higher than Facebook.
2. The Boring Company Comes to Chicago
Chicago announced last month that it has chosen The Boring Company to construct a 100mph transport system between O'Hare International Airport and Block 37.
The announcement was accompanied by a look at the future tunnels and how they may work. Tesla is set to build the pods that will transport around 16 passengers.
It's the first major project for the firm after it was founded by Musk at the start of last year, and from here the company aims to complete further "loop" tunnels and even explore hyperloop systems with theoretical maximum speeds of 700mph.
1. The Falcon Heavy Lifts Off
The moment on February 6 when SpaceX sent Musk's red Tesla Roadster into space with the inaugural flight of the Falcon Heavy, the world's most powerful rocket in operation, will be remembered in history.
Musk, who could barely contain his excitement, told the press he was "tripping balls," while activist David Hogg said he nearly cried at the event.
Falcon Heavy has big plans for future launches, and the U.S. Air Force confirmed plans to use the rocket last month.
Sign up for the weekly Musk Reads newsletter to get it each Friday in your inbox.