Why Cambridge Analytica Planned a Cryptocurrency Before Facebook Scandal
The company has found itself at the heart of a discussion around privacy.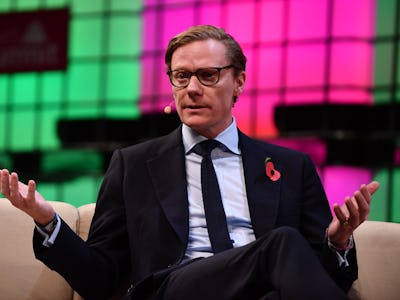 Flickr / Web Summit
CambCoin, anyone? Cambridge Analytica, the British data analytics firm at the heart of a scandal around Facebook's privacy policies, was planning to launch a cryptocurrency. That's according to a Tuesday report that claims the company was seeking to raise $30 million during an initial coin offering.
It's unclear whether Cambridge Analytica is still pursuing the plans, but it would mean joining a market that raised $1.2 billion last year by offering tokens that could form part of a new currency at a later date. The firm did not confirm the cryptocurrency plans to Reuters, but did say that "prior to the Facebook controversy, we were developing a suite of technologies to help individuals reclaim their personal data from corporate entities and to have full transparency and control over how their personal data are used […] we were exploring multiple options for people to manage and monetise their personal data, including blockchain technology."
The firm hasn't exactly become synonymous with strong privacy in the eyes of the public, after Christopher Wylie revealed in March how it used Facebook user data to target ads and aid the Donald Trump presidential campaign among others. The social network estimates up to 87 million users may have unknowingly had their data harvested without consent. Bill Gribbons, director of the master's in human factors at Bentley University, told Inverse last week that he expects more scandals to emerge in the industry.
Plenty of businesses that started out with initial coin offerings have successfully expanded. Ethereum, which held an offering in 2014 and raised $18 million, is now the second-largest cryptocurrency in the world with a total market cap of $51 billion. There is significant risk involved, though: 142 of the 902 offerings listed last year fell apart during the funding stage, and 46 percent had failed by February 2018.
If Cambridge Analytica is continuing with its blockchain development, it could have a hard time convincing investors to commit to an initial coin offering. Facebook CEO Mark Zuckerberg is set to meet with European Commission vice president Andrus Ansip during the latter's two-day visit to San Francisco this week.
As Zuckerberg meets with lawmakers and makes public statements to repair his company's reputation, the coverage will likely serve as a reminder of Cambridge Analytica's role in the scandal.