Why Half of 2017's Cryptocurrency ICOs Have Already Failed
Even while raising a staggering amount of money.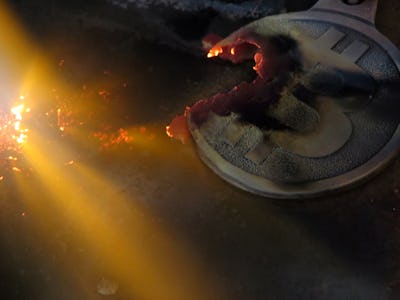 Flickr / btckeychain
The cryptocurrency boom of the past several months has made famous previously obscure coins like Ripple, Tron, Stellar, and more, all while pushing stalwarts like bitcoin and Litecoin to new heights. But amid all that success, there have been some crushing failures — $233 million worth of failure, to be exact.
That's the finding of a new report from Bitcoin News, which went through every last initial coin offering in 2017 to see how all those cryptocurrency upstarts collectively did. The results are dispiriting, to say the least, as at least 46 percent of last year's new coins have already failed.
That failure can take a few different forms. According to the report, 142 of the 902 listed initial coin offerings fell apart at the funding stage, raising only a few thousand dollars at most. These might have been transparently untrustworthy schemes, or they might have not had anything in their white papers to set their cryptocurrency apart and attract investors. Whatever the case, they gained no traction in an area where other coins routinely attained massive market capitalizations shortly after their ICO.
"Some, which fell flat at the fundraising stage, are doing it all over again this year and hoping that 2017's failure can be written off as a trial run," the report explains. "Freight trucking platform Doft is one such example. Looking at the countries of origin for failed ICOs shows that developing nations – and an entire continent in the case of Africa – are over-represented. Nevertheless, every major country and continent features in the list of shame."
But those that failed at the funding stage represent only about 16 percent of last year's ICOs. The balance of failure lies in the 276 coins that either turned out to be scams, with their creators absconding with the money raised, or just sort of faded away as people lost interest. The total money given to these coins is more than $104 million.
The percentage of 2017's unsuccessful cryptocurrencies bumps up from 46 percent to as high as 59 percent when you consider those Bitcoin News calls semi-failed, which are still technically active but either have unsustainably small communities behind them or whose teams have no ongoing social media presence to indicate the projects are still growing. Their fundraising totals bring us to $233 million spent on failed or likely failed cryptocurrency.
Even allowing for recent reversals in prices across the board, the past several months have been excellent for cryptocurrencies as a whole. But that success is far, far from evenly distributed.
If you liked this article, check out this video about Litecoin's creator, a meme-loving Internet Dad.