As Ripple Surges, Why Stellar Could Be the Next Cryptocurrency to Go Huge
There's a lot of reasons to keep an eye out.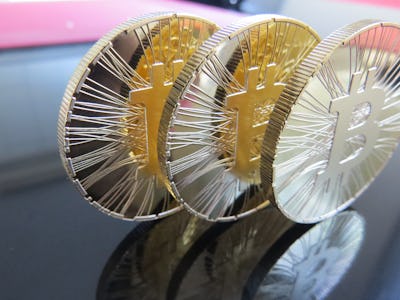 Flickr / antanacoins
Stellar is surging. The cryptocurrency aims to achieve a similar goal as Ripple, providing hassle-free international transactions. Both tokens have soared in value this week, with Stellar briefly taking the number six spot in terms of overall cryptocurrency value. There's good reason to believe Stellar could prove the next big thing.
The cryptocurrency has big expert backing. Jed McCaleb founded the cryptocurrency in 2014, just one year after also founding Ripple. He also founded the Mt. Gox Bitcoin exchange before selling it in 2011. At one point in 2013, Mt. Gox handled 70 percent of all Bitcoin transactions before a major hacking attack led to its downfall. Throughout his career, McCaleb has tried to crack the problem of updating the global financial system for the digital age.
"We are trying to be an internet level protocol for payments," McCaleb said about Stellar in a 2016 interview with Forbes. "There are lots of payment networks, but they don't interoperate."
Developed by a non-profit organization, Stellar is an open source blockchain that allows for cross-border transactions with equal access for all participants. With Bitcoin, some exchanges pay for prioritized processing to cut down confirmation times. Fees have skyrocketed to around $20, while confirmation times average just over an hour. Stellar promises transaction times of two to five seconds with fees of just a fraction of a cent.
See below for Stellar's explainer on how the network works.
This use case has filtered down into investor decisions. On Wednesday, Stellar surged by over 60 percent to reach a price of 91.85 cents per lumen, the name of the cryptocurrency token. With 17 billion lumens in circulation, at the time of writing its market cap of $14.6 billion makes it the seventh biggest cryptocurrency in the world. It's even bigger than ninth-place Litecoin at $13.1 billion, one of the most prominent cryptocurrencies due to its inclusion on Coinbase.
Stellar has a big mountain to climb if it wants to replicate Ripple's success, though. The latter has secured a number of deals with businesses looking for a professional use of cryptocurrency as over 100 companies have signed up for tests. This has shown in a market cap that rests at $140 billion, and a token that has increased in value by 20 percent over the past 24 hours to reach $3.62 per token.
It's early days, but Stellar could surge off the back of investors looking for a cryptocurrency with real-world potential.