Elon Musk and Grimes: "Rococo Basilisk" Links the Two on Twitter
A Twitter cross-over like no other.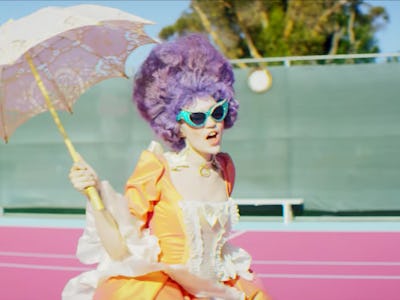 Grimes
Only days after Elon Musk threw shade at Warren Buffet on Twitter by jokingly stating that he would start his own candy company, he's back at it with the eyebrow-raising tweets. On Monday, the tech mogul tweeted two words that sent the internet on a wild chase for some answers: Rococo basilisk.
This seemed to be a joke compounding the lavish 18th-century baroque style "Rococo" with the Roko's Basilisk artificial intelligence theory, which hypothesizes a future where a god-like A.I. punishes everyone who didn't help create it. This might have rung a bell for fans of the Canadian pop-star Claire Boucher, better known as Grimes. That's because she had made the identical joke in a 2015 music video for her song "Flesh Without Blood." And according to a Page Six report, this was all a convoluted hint that Musk and Boucher are dating and will be attending Monday's Met Gala together. Confused yet? Us too.
"Elon was researching the idea of joking about Rococo Basilisk, and when he saw Grimes had already joked about it, he reached out to her," an anonymous source told the publication. "Grimes said this was the first time in three years that anyone understood the joke. They were both poking fun at A.I."
This wouldn't be the first bizarre interaction between Boucher and Musk online. Earlier in May the tech CEO tweeted a link to a video of a comet, which Boucher responded to with "that's a lot of cocaine." This flirtatious banter caused a furor of speculation that the two were having some sort of internet love affair, which culminated with Musk's tweet.
Musk has been quoted saying that A.I. is more dangerous to humanity than nuclear weapons. While Boucher created a character in her music video named "Rococo Basilisk," which she told Fuse was "doomed to be eternally tortured by an artificial intelligence, but she's also kind of like Marie Antoinette."
So if the rumors prove to be true, it was a mutual fear of robot overlords that brought these star-crossed lovers together.