Elon Musk Tweets Plan for Candy Company After Criticism from Warren Buffett
Too bad Mars Bar is already taken.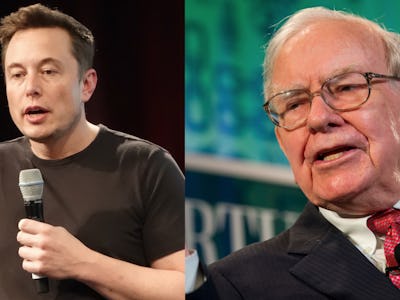 Sometimes conflict can be the impetus of innovation. The recent feud between SpaceX and Tesla CEO Elon Musk and business magnate Warren Buffett escalated on Saturday, prompting Musk to announce his latest venture: a candy company.
During a particularly strange Tesla earnings call on Wednesday, Musk pivoted from discussing the car company's financial spending to highlight what he believes is wrong with traditional investment strategies. He pointed out that he disagrees with one of Warren Buffett's core investment principles — that companies should use strategic "moats" to disengage with competitors — and called the practice "lame." Buffett responded directly to Musk's point at the Berkshire Hathaway shareholder meeting on Saturday, saying that "Elon may turn things upside down in some areas. I don't think he'd want to take us on in candy." The joke may have inspired Musk's next venture.
"I'm starting a candy company and it's going to be amazing," Musk tweeted to his 21 million followers. And for those who are skeptical that Musk is taking Buffett's comment literally, he followed it up by insisting that he is "super, super serious."
It's not out the ordinary for Musk to tweet outlandish ideas that wind up being true. In 2016, he nonchalantly announced the creation of the Boring Company on Twitter without much ceremony. "Traffic is driving me nuts. Am going to build a tunnel boring machine and just start digging," he tweeted. Roughly an hour later, the plan for the Boring Company was announced, disguised as a joke. "It shall be called 'The Boring Company.' Boring, it's what we do."
If Musk really does move forward with a candy company, its launch will have to be pencilled in around SpaceX's upcoming Dragon launch, scheduled for August, and Tesla's upcoming Model Y, which Musk described as an entry-priced sports utility vehicle in Wednesday's earnings call.
The banter between the two entrepreneurs wasn't all bad. In Saturday's shareholder meeting, Buffett did concede that "moats" have disappeared from certain industries but argued that companies must still protect their competitive advantages. Of course, Musk and Buffett's competing theories won't be put to the test until they become each other's direct competitors in the market.