Elon Musk: First 1,000 Boring Company Flamethowers Being Picked Up
The $600 flamethrower is an oddball fundraising item for the Boring Company.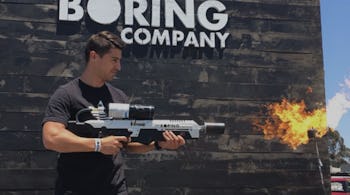 Elon Musk
Elon Musk shared some fiery news on his Twitter account on Saturday: The first 1,000 people who ordered the Boring Company Not-a-Flamethrower" to help the fledgling tunnel building business raise money, could pick up their flamethrowers.
The flamethrowers are one of the delightfully oddball fundraising items Musk's Boring Company has put up for sale. First was a "Boring Hat" and then came the flamethrower (later rebranded as a "Not-a-Flamethrower" due to legal concerns about selling them), and there was even a peanut brittle. In the future, Musk has said the Boring Company will turn the muck the company digs up into bricks and sell them.
Marketed as the "Not a Flamethower," the now sold-out fire guns cost $600 each and only 20,000 were put on sale. There were also fire extinguishers put on sale for $30 (those are also sold out).
About a month ago, Musk said the Boring Company delivery van would personally deliver to customers "in two weeks" because regulations around sending propane through the mail prevented the company from sending that way.
The silly stuff for sale has a serious mission: Musk wants the Boring Company — started behind SpaceX headquarters just outside Los Angeles — to redefine transportation. Using a giant boring machine he has named Godot, Musk wants to make tunnel digging ten times faster. In those tunnels, which he calls "loops," will travel passenger pods, bicycles, pedestrians, and eventual, personal cars. About a month ago, Musk said the company would soon offer rides to the public in the prototype tunnel.
Musk first began seriously talking about an underground network of tunnels back in January 2016. Then, he told students at a hyperloop passenger pod competition: "It's not that hard, but if you have tunnels in cities, it would massively alleviate congestion. You could have tunnels at all different levels, you could have 30 layers of tunnels and completely relieve the congestion problem in high-density cities. So, I highly suggest tunnels."
A little less than a year later, in December 2016, Musk brought up the idea again: "Traffic is driving me nuts," he complained on Twitter. "Am going to build a tunnel boring machine and just start digging." Later, he gave his company its name: "It shall be called 'The Boring Company.' Boring, it's what we do." In April 2017, Musk revealed this stunning concept video that shows the vision he plans to execute.
Progress on test tunnel continued through 2017, raising money with Boring Company hats and Boring Company-branded flamethrowers. Musk has branded the shorter tunnel a "loop" and said on Thursday in another tweet that "loop" tunnels — where a vacuum tube isn't required — can be connected like a subway system between cities: "A cool thing about the design is that's easy to incorporate branch loops to serve small to mid-size cities without slowing down the main loop at all."
More Boring Company Flamethrower Headlines:
Boring Company Flamethrower Is Ideal for Crème Brûlée, Bizarre Rules Claim
Are Boring Company Flamethrowers Illegal? Not in California, Lawmakers Say
Elon Musk Promotes Boring Co. Flamethrower in Series of Enthusiastic Videos
'Walking Dead' Actor Buys Elon Musk's Flamethrower Too Late to Kill Zombies
Images of Elon Musk's Boring Company $600 Flamethrower Have Leaked