Images of Elon Musk's Boring Company $600 Flamethrower Have Leaked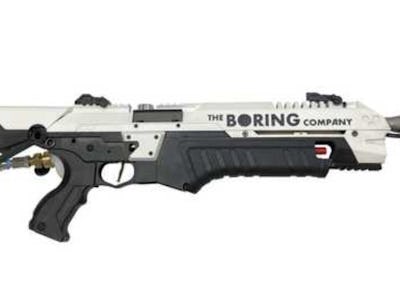 Noted rocket, car, and hat enthusiast Elon Musk loves good technology. The guy just can't get enough of it! Ha. But really. Now he's selling a $600 flamethrower.
Last December, Musk tweeted on Twitter that if he sold 50,000 hats for his tunneling venture known as The Boring Company, he'd sell an official company flamethrower. Elon Musk makes a lot of jokes on Twitter, though, like that time he said he was interested in buying the whole site. He also enjoys making dad jokes. He's a regular internet prankster.
So for this reason, it's understandable if people thought he was kidding. After all, it was a little difficult for some of us to take Musk seriously when he said his company was going to manufacture state-of-the-art flamethrowers.
"I know it's a little off-brand, but kids love it," he said on Twitter.
But it seems like, somehow, Elon's making good on that promise. The Verge reports some redditors noticed that visiting boringcompany.com/flamethrower would bring you to a strange screen with a password prompt. The password was aptly just "flame." As of this writing, it seems to have changed.
Before the switch, users on the site would have then been taken to a preorder page to purchase the $600 Boring Company flamethrower. Here's a screenshot of it that surfaced on Twitter:
"Prototype pictured above," the screen read. "Final production flamethrower will be better."
Those on MuskWatch — the fan army assume keeps tabs on Elon — have probably already seen the flamethrower in action. On January 9, music producer D.A. Wallach tried one out on his Instagram, which he has since deleted. The four-second clip showed Wallach pumping the trigger of a modified airsoft rifle as flames shot out of the barrel.
It's unclear how, why, when, or if this will actually go to market. But for now, Elon's fan army, which we're calling the Musketeers, can have their day in the sun.