Elon Musk Promotes Boring Co. Flamethrower in Series of Enthusiastic Videos
The $600 flamethrower is great as a party favor, nut-roaster, and zombie-killer. I mean, What's not to like?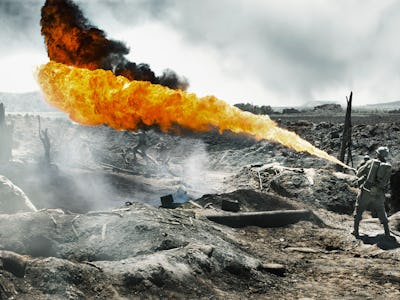 Lionsgate and Mark Rogers
Elon Musk's latest marketing stunt for his tunnel digging company, the cleverly named Boring Company, is a $600 flamethrower and it is now available for preorder. (But hurry, because there are only 20,000 available, the company advises.)
Since he Boring Company started taking preorders last week, it seems like everyone's favorite tech billionaire has gone all in on promoting the high tech, high-priced weapon — or party favor, depending on how you look at it — that, according to its website marketing copy, guarantees to "liven up any party."
But for Elon, it seems to have additional value as a roaster of nuts…and weapon in the zombie apocalypse.
On Saturday night, he posted a photo on Instagram of the flamethrower with a caption quoting Scarface, "Say hello to my little friend…"
Then, he started in with the zombie references.
But whether or not Elon is behind an impending zombie apocalypse, these flamethrowers are selling quickly, as his live commentary on Twitter shows. According to his latest update on Saturday evening, 2,000 have already been sold.
If you're wondering why Elon Musk is selling flamethrowers at all… well, you're being just a little too rational.
Last December, the billionaire tweeted that if he sold 50,000 hats for his tunneling venture known as The Boring Company, he'd sell an official company flamethrower.
Of course, that still doesn't explain what flamethrowers have to do with tunnel digging, or how it might be a good idea to turn a deadly weapon of war that was banned by the U.S. Department of Defense in 1978 into a game.
Of course, Elon has an answer for that as well. The website also says this is "world's safest flamethrower," presumably because the flames are less than 10 feet long, as opposed to the twenty to thirty feet flames of the original weapon invented by the Germans and deployed for the first time to terrifying effect in World War I.
Then again, this isn't the first time that the Internet has bought things that make little sense. (See the box of nothing and, again, poop box that Cards of Humanity has become infamous for selling.)
Of course, those are benign jokes next to something created as a weapon of war. But hey, Elon also has a caveat: "Don't do this. Also, I want to be clear that a flamethrower is a super terrible idea. Definitely don't buy one. Unless you like fun."
Got it, Elon.