Elon Musk Reveals Fire Sales Stats for The Boring Company Flamethrower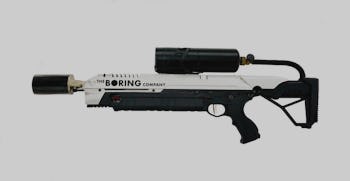 Boring Company
Elon Musk is on fire. The Boring Company, the tunnel-digging venture that plans to link up cities with hyperloop-like transportation technologies, has seen big sales for its $500 flamethrower. On Wednesday, Musk revealed the product's latest sales figures, and it looks like his venture is raking in big revenue.
Through his personal Twitter account, Musk stated that 17,500 flamethrowers had sold already, with a further 2,500 of the limited quantity left to order. This means Musk has raked in at least $8.5 million in revenue so far, but it's unclear how much of that is profit.
Musk plans to put that money to good use. The company has proposed plans to build a series of tunnels under Los Angeles. In a concept video, The Boring Company proposes a skate-like system that could move cars at faster speeds. Musk has also said the firm will compete to build a "high-speed loop," similar to the hyperloop, running from Chicago's O'Hare Airport to downtown.
Not everyone is on board with the idea, though. The device complies with regulations that state the flame should be shorter than 10 feet. However, California state senator Miguel Santiago has described it as "asinine" and "not funny," and aims to halt sales of such devices:
It's actually the second branded product Musk has sold through his venture. The company started selling black hats in October 2017 emblazoned with the "Boring Company" logo. At $20 a pop, the company reached its $1 million fundraising goal two months later after it sold 50,000 caps.
The whole merchandising initiative is a reference to 1987 sci-fi parody Spaceballs, which pokes fun at Star Wars and other blockbuster '80s movies. In a scene shared by Musk last month, Yogurt (played by Mel Brooks) explains that all the film's money comes from merchandising, revealing a mind-boggling array of t-shirts, lunchboxes, and…a flamethrower.
It's not the first time Musk has referenced Spaceballs in his work. The Tesla Model S and X feature a "Ludicrous Mode" that enables faster performance, complete with a hidden central console animation that mimics the film. The second-generation Roadster, set to launch in 2019 as a sequel to the company's first car, will feature a "Plaid Mode." In the movie, that's the next step about "Ludicrous."
With work also continuing on SpaceX's mission to Mars, Tesla Model 3 production and the development of a symbiotic artificial intelligence, it's safe to say Musk is on a roll. He'll just have to hope that California doesn't pull the plug on his flamethrowers.